March 2, 2010 -Dr. J-Water
Yesterday we talked about Kobe Bryant being a crafty defender for his 'love tap' to the balls of Andre Iguodala when he was taking a jumpshot. Just when I thought the veterans in this league were all out of tricks, on back to back days, i'm amazed by the craftiness of the vets.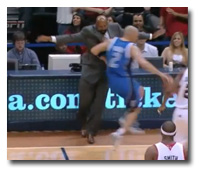 In the Atlanta Hawks-Dallas Mavericks match (that unfortunately I couldn't watch as it wasn't aired in my area), Jason Kidd pulled off possibly the smartest play i've seen in a while. In a tight game coming down the stretch of the fourth quarter, he's dribbling the ball up the floor and notices Hawks Coach Mike Woodson unknowingly standing one step onto the court yelling out instructions to his team. So what does Jason Kidd do? He dribbles past Woodson and gives him a forearm shiver back into the sideline in the process.
The refs blow the whistle but instead of a technical on J-Kidd they give Mike Woodson a technical. Why? Because although coaches step on the floor all the time while yelling to their team, the rules state the Coach is not allowed to be on the floor during play.
Dallas gets free throws, ties the game in the closing seconds and eventually wins in overtime.
Jason Kidd, you may be slowed physically by age, but not mentally my friend. You are one crafty vet:
(Video from Larry Brown Sports via SI's Hot Clicks)