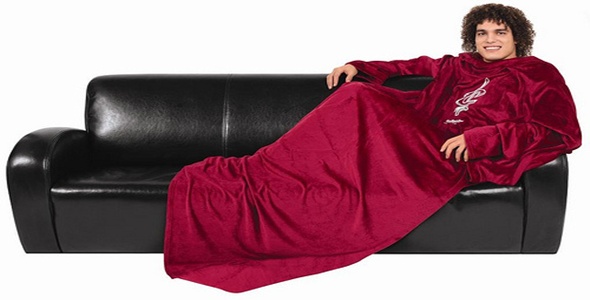 March 2, 2010 – Allen Moll
With many of today's top stars in the league, like most recently Dwight Howard or Vince Carter, attempting to secure a listing in the Guinness Book of Worlds Records, the Cleveland Cavaliers decided to try and set a mark of their own.
I know what you're thinking, it's not something ridiculous like Lebron James nailing a full court shot with a football, but rather a record which involves a little help from their fans. The fine folks over at Deadspin clued me in to a promotion where the a sold out crowd of 20,562 in attendance at the Cavs/Pistons game on Friday, March 6th will be given a Snuggie to be worn precisely at 7PM.
Cavs management is asking that everyone arrive on time before the game's scheduled tip-off since a Guinness Worlds Record official will be on hand to authenticate the event. Once the total count is made, each fan will be given a commemorative magnet that will acknowledge that they are indeed a record holder. Talk about some phenomenal swag!
I first thought this was a joke of some kind, but a quick check on the Cavaliers official site reveals the Snuggie game is a legitimate promotion sponsored by KeyBank. A quick clarification from the fine people at Guinness stated that the official record that the Cavs are attempting to break is "the largest gathering of people wearing fleece blankets."
I'm sure everyone is familiar with the Snuggie.  By now you've surely seen the annoying commercials with all the people "raising the roof" while wearing a full bodied fleece blanket with sleeves. They'll have you believe that it is cool to wear full body fleece in public, yet I have yet to see one at any of my son's sporting events. They kind of make everyone look a little like the Kool Aid Man. Check out a clip of the commercial:
The promotion is of course an attempt at publicity by KeyBank who is the Cleveland's area's largest financial institution. You see, the Snuggies aren't for free, and must be returned after the record is certified. The day after the game, on March 6th, a limited number of Snuggies will be available with the purchase of one of their signature KeyBank Mastercards. Shucks, and I was ready to buy my ticket to get a free Snuggie!
Allen Moll is an avid NBA and College Basketball fan who watches and studies games religiously and coaches youth basketball in his native Lehigh Valley region of Pennsylvania.  Allen is a regular columnist for thehoopdoctors.com, Bleacherreport.com, UpperDeckblog.com, and his own site, Hoops Haven.