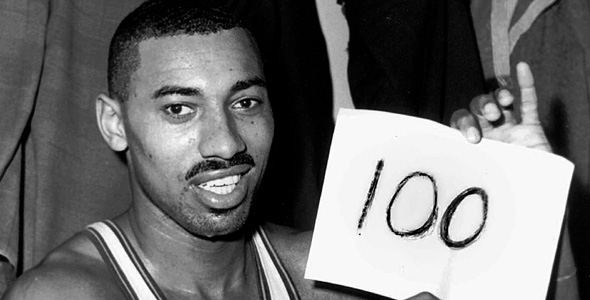 March 2, 2010 -Dr. Anklesnap
It's been a crazy day around here at The Hoop Doctors. We've been working like crazy on a few new projects and features we have comin' your way to help make your time on our site a bit more enjoyable. One of them we launched yesterday which is our new weekly podcast with Kevin Burke.
But still that's no excuse for us almost missing one of the most important pieces of news in the NBA today. No matter what, we need to celebrate, reflect, recognize, and discuss this piece of news every year on this day. 48 years ago to this day Wilt Chamberlain, recorded the single most individual point total by any player in NBA history in any game, playoff or regular season. 100 points, 100 points, 100 points. The more I say it, the more unbelievable it sounds to me. How could one player score that many points in a game.
Wilt Chamberlain's 100-point game, named by the National Basketball Association as one of its greatest games, was a regular-season game between the Philadelphia Warriors and the New York Knicks held on March 2, 1962 at Hersheypark Arena in Hershey, Pennsylvania.

The Warriors won the game 169–147, setting what was then a record for the most combined points in a game by both teams. The game is most remembered, however, for the 100 points scored by Warriors center Wilt Chamberlain. This performance ranks as the NBA's single-game scoring record; along the way Chamberlain also broke five other NBA scoring records, of which four still stand.

As Chamberlain broke several other scoring records during the 1961–62 NBA season, his 100-point performance was initially overlooked. In time, however, it became his signature game. Wikipedia – Wilt's 100 Point Game
Sure we had a modern day Wilt Chamberlain like performance in Kobe Bryant's 81 a couple years ago, but many of those 81 were scored from three point range. Think about Wilt needing to score that many more field goals to get to that giant statistical number. Wilt had 36 made field goals in the game!
And for those of you that think it was just because he was so much bigger and taller than the competition, think again. The guy had footwork and shooting ability that would embarass this generation of centers in the paint. Chamberlain in that game went an amazing 28 out of 32 from the free throw line. Are you kidding me? In essence if you took Shaq's highest scoring output in his prime, and made him a Steve Nash like free throw shooter, he still wouldn't get close to this mammoth point total.
Rest in Peace Wilt – (August 21, 1936 – October 12, 1999)