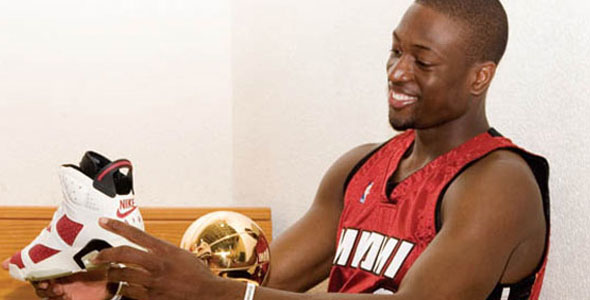 March 29, 2010 – Kevin Burke
A few months ago during an NBA on ABC telecast in a game featuring the Miami Heat, Mark Jackson (who called the game along with Jeff Van Gundy and Mike Breen) said that Dwayne Wade is the 3rd best shooting guard of all-time (#1 and #2 are obviously Michael Jordan and Kobe Bryant. You can put them in which ever order you would like. That's another discussion for a different time). I honestly never thought of who the 3rd  best 2-guard was until that day. But it definitely got me thinking.
I'm not quite sure if I would agree with Mark, but it is an interesting pick.  Actually, I don't know if I disagree either because I don't know what the answer to that question is. Wade is still relatively young so I'm hesitant to say that he is number 3 yet, but he deserves consideration and has a good case when it's all said and done. Names that come to mind (in no particular order) are Reggie Miller, Clyde Drexler, Mitch Richmond, Allen Iverson (for those that consider him a 2), George Gervin, Joe Dumars and the logo, Jerry West. Of course, there are plenty more to consider. That is not an exhaustive list. So, who is the 3rd best 2-guard of all-time?
If you're looking for your everyday, predictable basketball talk, then go somewhere else, because Kevin Burke of The Kevin Burke Project brings provocative, thought provoking content about basketball as only he can. Kevin also hosts The Hoop Doctors weekly podcast show, which you can subscribe too for free on iTunes.