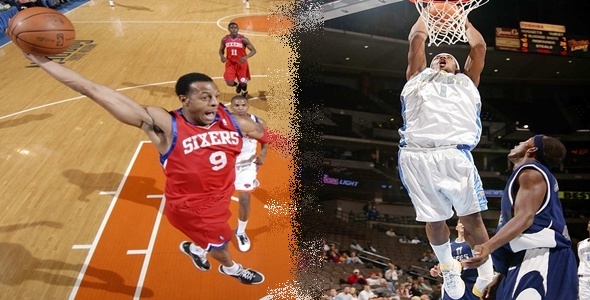 March 29, 2010 – Allen Moll
While we all would agree that the NBA Slam Dunk Contest has lost it's luster as the premiere event during All-Star Weekend, many of us hardcore, old school fans of the once marquee event have longed for some top notch performers like Vince Carter, Lebron James, or even Josh Smith to once again be competitors. We can stop adding these players to our wish list because, let's face it…………they're not coming!
But their are two high flyers, who have a swagger to their game, and who are former contestants, who would be perfect for the event next season. The Sixers' Andre Iguodala and the Nuggets' JR Smith seem to be the perfect candidates to breathe life back into the now legendary contest. After all, both enjoy dunking with authority on the opposition on a nightly basis and have quite a resume consisting of windmills and double pump reverses.
Recently, both players turned out quite a performance for their respective clubs by doing their best windmill dunks during live game action.
During the Nuggets loss to the Boston Celtics, Smith got the steal and went in for the highlight reel dunk:
During the Sixers surprising victory over the red hot Milwaukee Bucks, Andre Iguodala picks up a loose ball and goes in for the high degree of difficulty windmill jam:
Just for comparison's sake, here is a JR Smith compilation and an Andre Iguodala dunk mix.
You be the judge, who would win in a dunk off?
Allen Moll is an avid NBA and College Basketball fan who watches and studies games religiously and coaches youth basketball in his native Lehigh Valley region of Pennsylvania.  Allen is a regular columnist for thehoopdoctors.com, Bleacherreport.com, UpperDeckblog.com, and his own site, Hoops Haven.