March 8, 2010 – Allen Moll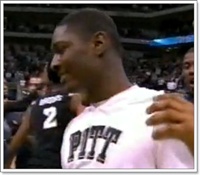 You can tell that March Madness is almost upon us as a number of teams across the country have been amping up the intensity, in an attempt to secure one of the 65 spots in the upcoming NCAA Tournament. Along with the heightened tension of trying to make the post season comes an amazing array of finishes to collegiate games recently.
Over the past week we have seen no less than 8-10 fantastic finishes, with virtually all having tourney implications. Will Pitt's Ashton Gibbs' miracle three against the Friars or Maryland's Greivis Vasquez' driving lay-up against Duke make the cut?  Don't sleep on a few other of these buzzer beaters which you may have missed.
I've selected the Top 5 Buzzer Beaters and Game Winning Shots for the past week:
#5 – Missouri's Zaire Taylor's full court game winning lay-up vs Iowa State:\
#4 – Arizona freshman Derrick Williams block at the rim and teammate Momo Jones bank-shot game winner:
#3 – Two Davidson players hitting Reggie Miller-esque 3 pointers in under 3 seconds vs Elon:
#2 – Pitt's Ashton Gibbs sinks 3 pointer as time expires to beat Providence:
#1 – Maryland's Greivis Vasquez hits a game winner vs Duke for a share of the ACC regular season:
Don't forget to check out The Hoop Doctors new weekly video podcast series with Kevin Burke. Episode 002 published today covers your week that was in the NBA, discussion about Kobe's obsession with MJ, Rodney Stuckey's collapse, Dahntay Jones defense on 'Melo, and much more.
Allen Moll is an avid NBA and College Basketball fan who watches and studies games religiously and coaches youth basketball in his native Lehigh Valley region of Pennsylvania.  Allen is a regular columnist for thehoopdoctors.com, Bleacherreport.com, UpperDeckblog.com, and his own site, Hoops Haven.