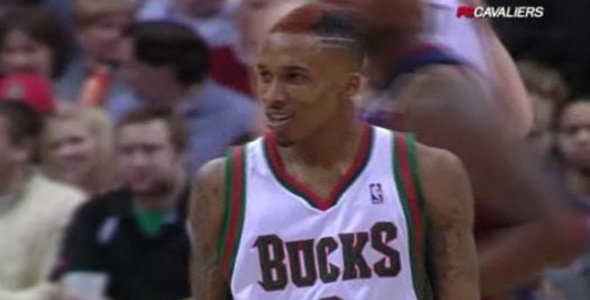 March 8, 2010 – Allen Moll
Fans tuning in to the Bucks/Cavaliers game were treated to quite a a spectacle on the court this weekend. To everyone's surprise, Lebron James was in street clothes as Bucks rookie Brandon Jennings provided most of the highlights by both showing off his new multi-colored mohawk hairstyle and dropping 25 points and 6 assists in his squad's 92-85 victory over the Cavs.
The Milwaukee Bucks brash and often outspoken rookie has been known to sport a variety of hairstyles which has included the old school, high top fade. But his new do is surely going to get him a lot of attention since he put his own spin on the mohawk by dying the middle of his hair a dark reddish brown with it noticeably darker on the sides, making him look a little like a rooster.
Before the game, Jennings supposedly got a scolding from coach Scott Skiles over his recent comments that he "wasn't even sure if he wanted the ball" late in games and over his slumping play which has seen him drop in the Rookie of The Year Rankings.  Isn't this the guy who dropped 55 points in a game earlier this season?  Jennings offensive numbers have taken a hit lately by scoring in single digits in 5 of his last 8 games.
Milwaukee's point guard of the future responded by running the Bucks offense efficiently and hitting five 3 point shots, while dropping 6 dimes. The Bucks have been hot, winning 9 of 10 games and 15 of their last 19 to pull within percentage points of Toronto for the 5th spot in the Eastern Conference while the Cavs loss snapped their 6 game winning streak and failed in their attempt to become the first team to reach the 50 win plateau.
Cavaliers coach Mike Brown said he made a coach's decision not to play the NBA's leading scorer, Lebron James, not because of any specific injury but rather to give his team leader a much needed rest after playing extended minutes lately. Not sure if we should believe that since James was noticeably limping while leaving the court. The Cavs newest All-Star, Antawn Jamison, tried to carry the offensive load by putting up 30 points and 11 rebounds. Cleveland will surely need the services of "King James" since they lost their 10th straight game without Lebron in the line-up.
Check out a game recap and Coach Brown's comments on why Lebron was not playing:
Allen Moll is an avid NBA and College Basketball fan who watches and studies games religiously and coaches youth basketball in his native Lehigh Valley region of Pennsylvania.  Allen is a regular columnist for thehoopdoctors.com, Bleacherreport.com, UpperDeckblog.com, and his own site, Hoops Haven.