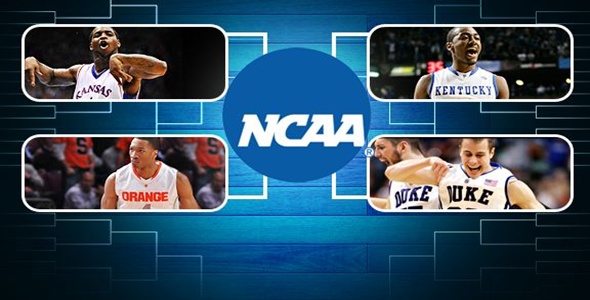 March 16, 2010 – Allen Moll
Now that the 65 team field is set, it's time to start breaking down the brackets and seperating the contenders from the pretenders in an attempt to help you win your office pool. Which squad is overrated, under-seeded, or will become this year's Cinderella? In our first of four bracket previews, we will take a deeper look at the Midwest Region.
Contenders

At first glance, the Midwest region is stacked with 9 conference champions and upwards of 5 teams capable of making it to the Final Four. Assuming the #1 seeded Kansas Jayhawks get to the Sweet 16, they got a very tough draw by possibly having to go through partial ACC regular season champs Maryland, and either Georgetown or Ohio State, just to get to Indianapolis. Fresh off of winning both the Big Ten regular season and conference tournament, #2 seeded Ohio State seems poised to make a deep tourney run. Also, now that Georgetown has leading scorer Austin Freeman back, they could at least make it interesting in the Elite 8. Behind one of the most exciting players in the nation in Greivis Vasquez, #4 seeded Maryland should be a lock for the Sweet 16. Don't forget about coach Izzo's Michigan State Spartans, taking it personally being only a #5 seed.
Underseeded
Although this is not Tom Izzo's most talented bunch, he will undoubtedly get the most out of his players and have the committee second guessing themselves at making the Spartans a #5 seed. Kalin Lucas remains as one of the best point guards in the nation and Raymar Morgan can be as talented as anyone in the country when he feels like it. Losing early in the Big Ten Tourney won't sit well with Izzo and will undoubtedly lead to a spirited few days of practice before facing New Mexico State. I look for them to at least make another Sweet 16 run.
Overseeded
The Terps live and die by the play of All American Greivis Vasquez. When he plays with composure, they can be a dangerous squad. Problem is, when playing against another great player, Vasquez has a tendency to try and 1-up the competition by jacking up loads of bad shots and consequentially hurting his teams chances. I wouldn't be surprised to see Maryland struggle in the first round against the nation's leading scorer, Aubrey Coleman, who is a volume scorer at 25 ppg. At best, expect Gary Williams' squad to make a trip to the Sweet 16.
Bracket Sleeper
You never know what your going to get out of Bruce Pearl's Volunteers. As the only squad in the nation this year to have beaten both the #1 and #2 teams in the nation this season, they have shown the ability to beat anyone in their path. After a decent showing in the SEC Tourney, they may have been underseeded as a #6 seed, which should serve as a gret motivational tool for Pearl who is known for his already fiery demeanor. Scotty Hopson(13 ppg) is starting to play like the former highly rated McDonalds player in HS and Wayne Chism(12.5 ppg, 7 rebs, 1.5 blk) has been finally playing like an All Conference representative. Even as a #6 seed, they face a tough match-up i the 2nd round in the Georgetown Hoyas.
Best Player Who Will Lose In The First Round

CJ McCollum, Lehigh Mountain Hawks 
While he wasn't a highly rated recruit coming out of HS, McCollum led all freshmen in the nation, including that guy from Kentucky baned Wall, in scoring at 19 ppg.  McCollum set numerous school records for freshmen as he was chosen as both the Freshman and Player of the Year and Player of the Year for the first time in Patriot League history.  He also led the Mountain Hawks to league regular season and conference tournament crowns.  CJ also played a major part of Lehigh ranking in the Top 20 in the nation in 3 point shooting.
Most Outstanding Player

Evan Turner, Ohio State Buckeyes 
As sort of a no-brainer, Turner could go off, especially in the 1st round, where he could be a triple-double just waiting to happen against the Big West champ, UC Santa Barbara, who have never faced a player of Turner's caliber. As the probable POY, and with a deep tourney run, his stats could approach record-breaking numbers.
Allen Moll is an avid NBA and College Basketball fan who watches and studies games religiously and coaches youth basketball in his native Lehigh Valley region of Pennsylvania.  Allen is a regular columnist for thehoopdoctors.com, Bleacherreport.com, UpperDeckblog.com, and his own site, Hoops Haven.
Be sure to sign-up and follow Allen, who has been chosen to participate in the 2010 Last Fan Standing College Basketball Elimination Game.  It is a NCAA Tourney game with a twist.  64 of the nation's best sports bloggers were selected, bracket style, with each getting one of the 64 teams in the tournament.  While the writers submit unique and interesting content, fans and followers have the chance to win new laptops, a weekend getaway to the Mirage in Las Vegas during Final Four weekend, or even a trip to see the National Championship Game in Indianapolis.  All you have to do is sign-up at Lastfanstanding.com and continue to visit the site and vote up Allen's articles, starting on Wednesday, March 17th, to win prizes.  The farther he advances in the brackets, the more prizes you could win!