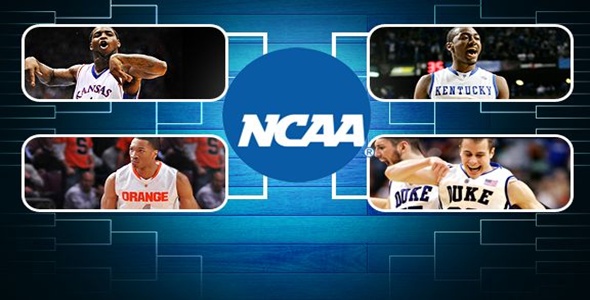 March 16, 2010 – Allen Moll
Now that the 65 team field is set, it's time to start breaking down the brackets and separating the contenders from the pretenders in an attempt to help you win your office pool. Which squad is overrated, under-seeded, or will become this year's Cinderella? In our second of four bracket previews, we will take a deeper look at the West Region.
Contenders

About a week ago, #1 seeded Syracuse was arguably playing their best basketball of the season and seemed poised to make a run at a national championship. But after losing their regular season finale to Louisville, dropping their first game in the Big East Tournament, and possibly losing big man Arinze Onuaku for the first two rounds to a quad injury, coach Boeheim suddenly has a few obstacles in his pursuit of title number 2, like taming the high flying Marqus Blakely of Vermont in the first round. #2 seed, Kansas State has a talented enough backcourt to make an Elite 8 run behind Jacob Pullen and Denis Clemente. The #3 seeded Pittsburgh squad is as tough as they come behind the ever improving Ashton Gibbs, Brad Wanamaker, and Jermaine Dixon. They could give Kansas State a run for their money in the Sweet 16. If #4 Vanderbilt can get past a tough 1st round foe in Murray State, the Commodores could also be a Sweet 16 club behind the high scoring Jermaine Beal and AJ Ogilvy up front. After sweeping the Horizon League regular and postseason tournament, the #5 seeded Butler may possess enough maple moxey to face a finally healthy Orange squad in the round of 16.
Underseeded
The Zags missed out on getting a #4 or #5 seed all because of their embarrassing 19 point loss to St Mary's in the WCC Tournament. What the selection committee members missed is that the Zags have made and won at least one game in the NCAA Tourney for 12 straight seasons dating back to 1999, where they went to the quarterfinals and lost to eventual national champion UNC Tarheels. They boast a ton of experience, especially from the WCC Player of the Year and leading scorer, Matt Bouldin(16 ppg, 4.5 rebs, 4 ast), who will be dancing for the 4th year in a row. Only freshman Elias Harris, who is Gonzaga's 2nd offensive option, is wet behind the ears, come March Madness. Unfortunately advancing is usually partly because of seedings, and the Zags drew a doozie in the 2nd round in the Cuse.
Overseeded
Although coach Gene Stallings is worthy of winning the Southeast Conference's Coach of the Year Award, his Commodore squad frankly didn't have enough quality wins and lost to Western Kentucky out of conference and conference foes Georgia, South Carolina, and Mississippi State, all of which are not NCAA Tourney teams to be considered legitimate contenders. Even if they get past the Murray State Racers in the first round, they have a tough match-up with either Conference USA Champion, UTEP Miners or the aforementioned Gonzaga Zags. Stallings has to hope that the inside outside combo of Australian born Ogilvy's(13 ppg, 6 rebs) offensive skills click with the sharpshooting Josh Jenkins, Jermaine Beal(15 ppg), and Jeff Taylor's(13 ppg) perimeter scoring.
Bracket Sleeper
The Cougars had to be a bit upset at only receiving a #7 seed after making 7 tourney appearances in 10 seasons, setting a school record with 29 wins, and being ranked in the Top 25 for virtually the entire season. Even though they haven't won a tournament game since 1993, the Cougars hoped to springboard off of a 2nd place finish in the suddenly resurgent Mountain West Conference to a higher seed this year. BYU is a tough match-up for the #10 seeded Florida Gators in the first round behind NBA bound Jimmer Fredette(21.4 ppg), who is one of the top scorers in the nation and who topped the 40+ point mark in a game earlier this season. Because they are among the nation's leaders in scoring(83 ppg) and free throw shooting(79%), the Cougars could give Kansas State a contest in the 2nd round and even farther to possibly the Elite 8.
Best Player To Lose In The First Round

Marqus Blakely, Vermont Catamounts
The Catamounts rode the spectacular play of Blakely all the way to the America East Conference crown as the conference's best player and leading scorer. He averaged an impressive 17.5 ppg, 9.5 rebs, 4 ast, 2.4 stls, and 2 blks, as their Mr. Do It All. He also has garnered quite a youtube following for his high flying, rim rattling throw-downs in games. Blakely was among the nation's leaders in double-doubles in points and rebounds with 17, including a 24 point, 18 rebound statement performance against Boston University in the America East Conference Final.
Most Outstanding Player

Wes Johnson, Syracuse Orangemen
Could losing in the first round of the Big East Tournament actually help Johnson get fully healthy? The Big East Player of the Year has suffered from a number of nagging injuries for most of the second half of the season. Resting for nearly a week may cure what ails the Orangemen's stat stuffer. Johnson seemingly did it all for the Cuse during the regular season but putting up 16 ppg, 8.5 rebs, 2.3 ast, 2 blk, and 1,7 ast. After playing at Iowa State his first two seasons, Wes finally has the chance to improve his lottery bound NBA Draft stock by playing on college basketball's biggest stage.
Allen Moll is an avid NBA and College Basketball fan who watches and studies games religiously and coaches youth basketball in his native Lehigh Valley region of Pennsylvania.  Allen is a regular columnist for thehoopdoctors.com, Bleacherreport.com, UpperDeckblog.com, and his own site, Hoops Haven.
Be sure to sign-up and follow Allen, who has been chosen to participate in the 2010 Last Fan Standing College Basketball Elimination Game.  It is a NCAA Tourney game with a twist.  64 of the nation's best sports bloggers were selected, bracket style, with each getting one of the 64 teams in the tournament.  While the writers submit unique and interesting content, fans and followers have the chance to win new laptops, a weekend getaway to the Mirage in Las Vegas during Final Four weekend, or even a trip to see the National Championship Game in Indianapolis.  All you have to do is sign-up at Lastfanstanding.com and continue to visit the site and vote up Allen's articles, starting on Wednesday, March 17th, to win prizes.  The farther he advances in the brackets, the more prizes you could win!