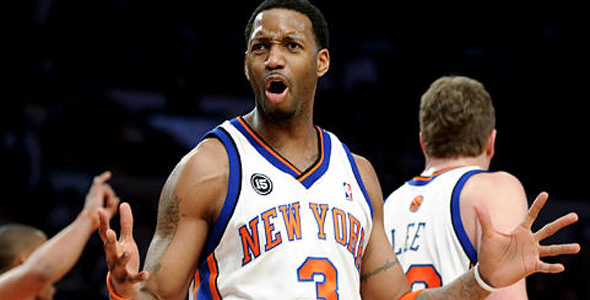 February 22, 2010 – Kevin Burke
The general consensus around the league is that Tracy McGrady is washed up, done, a bum. I can't blame people for feeling that way. In fact, about a year ago I put T-Mac in the Penny Hardaway – Grant Hill Club. That is an exclusive club whose members are guys who could've been all-time greats if injuries hadn't claimed the best years of their career. If at all possible, you want to stay out of that club. Despite the dubious distinction of this club, Grant Hill (gray beard and all) still has a little giddy up left, and Penny Hardaway (who was on his way to being the best point guard ever if not bitten by the injury bug – yeah I said it) hung around for a couple of years after he and Orlando parted company. Well, the same appears to be happening here for McGrady in that he's been ravaged by injury, but is still managing to do his thing.
When he was traded to the Knicks last week, I instantly thought that this could be nothing but good for the orange and blue (although they gave up Jordan Hill who may end up being something). Is Tracy the same player? Time will tell, but probably not. But come on, he can't be completely garbage. He's just 30 years old and was averaging 30+ ppg just a few short years ago. Not to mention the fact that for years he was the best player in the league not named Kobe Bryant.
Ok, I'm done reminiscing now. My point is that McGrady scored 26 points in 32 minutes on Saturday night against Oklahoma City. He was noticeably slower and not as toned as we're used to seeing him, but again, he scored 26 points in 32 minutes. That's nothing to sneeze at for a guy who is supposed to be a bum.
I'm willing to give him a pass on his lack of conditioning because he's coming off surgery and has some rust to shake off. When he gets his legs back, he'll be a 20+ ppg guy again. Mark my words. That begs the question: should the Knicks really just rent him for this year in order to clear more cap space for free agents who may not even come? Close your eyes and imagine this for a second: McGrady (albeit not quite as good as he once was, but still very serviceable), LeBron and Amare (those are the two acquisitions I'd like to see them make). I just threw up in my mouth, because that is just absolutely disgusting. Before even playing a game as a Knick, T-Mac said he wanted to be traded to New York because of the possibility of who they may get, so his heart is in it. The Knicks would be wise to seriously explore the possibility of keeping McGrady around long-term. He's not going to demand big money and he sounds happy to be given another chance to prove himself. The league has written McGrady off a bit too prematurely (but he still belongs in the Penny Hardaway – Grant Hill Club). Trust me. I know what I'm talking about.
If you're looking for your everyday, predictable basketball talk, then go somewhere else, because Kevin Burke of The Kevin Burke Project brings provocative, thought provoking content about basketball as only he can. For example, I bet you've never heard anyone provide legitimate reasons as to why Tim Duncan may be overrated, so buckle your seat belts and enjoy the ride.