February 21, 2010 – Allen Moll
The NBA has an All Star Game and high school basketball has their version of the same event in the McDonald's All American Game, so why doesn't college basketball have a similar event?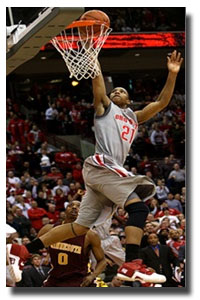 This was precisely the question analysts on the Big Ten Network were discussing recently as announcers Jim Jackson and Dan Dakich were asked to form their All-Star rosters from the Big Ten Conference. With the aid of some texting fans, the two analysts split the conference into an East and West subdivision with each selecting 5 starters and a 6th man for each squad.
Former NBA and Ohio State standout, Jim Jackson got to select his roster from teams in East like Ohio State, Penn State, Michigan, Michigan State, and Indiana. Dan Dakich, who was a former player for Bob Knight at Indiana and later a head coach at Bowling Green and Indiana, got to choose from schools in the West like Wisconsin, Minnesota, Purdue, Iowa, Northwestern, and Illinois.
Fans during the program were asked to text or Twitter their thought on who would win in an actual game, which heeded some pretty interesting results. Undoubtedly Jackson's East squad which featured national Player of the Year Candidates Evan Turner, Kalin Lucas, and conference scoring leader, Talor Battle would win over Dakich's West team of Wisconsin's Trevon Hughes, and Purdue's sharpshooter Robbie Hummel and high scoring swingman E'Twaun Moore?
Who do you think would win?
Check out video of the Mock Big Ten Conference All Star Game:
Allen Moll is an avid NBA and College Basketball fan who watches and studies games religiously and coaches youth basketball in his native Lehigh Valley region of Pennsylvania. Allen is a regular columnist for thehoopdoctors.com, Bleacherreport.com, UpperDeckblog.com, and his own site, Hoops Haven.