January 10, 2010 – Chip Patterson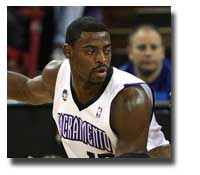 Chip Patterson, recent graduate of University of North Carolina – Chapel Hill, writes for TheHoopDoctors.com and serves as Basketball Editor for BusterSports.com.
Just a day after Hoop Doctor's own Matt Anaya moved Tyreke Evans to the Number 1 position in the January Rookie of the Year Rankings, the stud Rookie from Memphis added a clip to his already impressive highlight reel.
With the game tied at 100 against the Nuggets and less than ten seconds remaining, Evans brought the ball up the floor for the final possession. Each of the 14,411 attendees in ARCO Arena stood on their feet as the fate of the game as put in the hands of the 20 year-old from Chester, PA. After driving to his left Evans stopped on a dime, glanced at the clock, and gave a turnaround jump shot that splashed through the net with a cool 00.7 seconds remaining on the clock.
After you take in the essence of REKE HAVOC, take a gander at perhaps one of the odder sequences from the 2009-2010 season. With just under four minutes remaining the 3rd quarter, Tyreke Evans caught a pass behind the three point line after rolling off a Jason Thompson screen. Evans squared up and fired what looked to be a perfect attempt. Looked so much so that J.R. Smith actually though the ball went in. He picked up the ball and stepped out of bounds to inbound the ball to Chauncey Billups, who also appeared to have thought it was a made attempt. It ended up being an airball, and the play was recorded as a Denver turnover.
First the dagger from 'Reke, then the Perfect Airball: