January 10, 2010 – Dr. Browntorious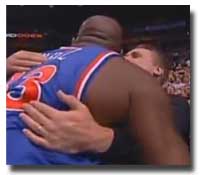 Shaquille O'Neal is kind of like the friendly giant of the NBA. The guy is joking and playing pretty much non-stop. Forget the fact that tonight he was playing in a professional basketball game in which he gets paid millions of dollars.
In tonight's Cavaliers-Blazers game in Portland, Shaq was fouled hard on an alley-oop attempt and ended up tumbling to the floor and landing in the front row seats. The big fella landed right in the lap of one of the famous acting Baldwin brothers. Sure, it was the less famous Daniel and not Alec or Stephen, but it was a Baldwin none the less.
Shaq, never being one to pass up an opportunity to be the playful center of attention gave Daniel Baldwin (who was wearing a Blazers jersey of course) a big hug and then a kiss on the cheek. Daniel and his buddies at courtside were loving the affection from the diesel. Check it out: