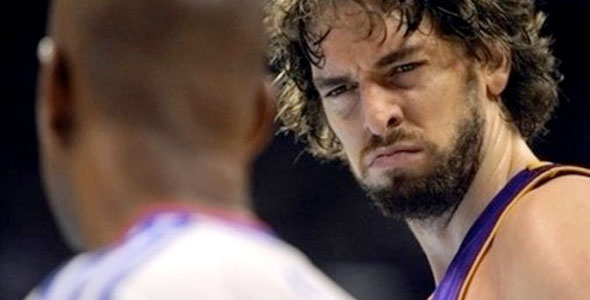 November 6, 2009 – R.S. De France
Although losing your number two player is typically detrimental, the Lakers are rolling along in the beginning of this NBA season. Sure, the beating they took from the revamped Dallas Mavericks was troubling, but Pau Gasol usually plays Nowitzki pretty even, if he doesn't out-play Dirk altogether. Gasol is good for 18 points and 9 rebounds a game, and he's a skilled playmaker and passer. Aside from their one loss, the season has opened well for the defending champion Lakers. Two of their three wins were sloppy over-time wins, but a "w" nonetheless. Their winning continued against the Houston Rockets last night, in a game that featured the return of Ron Artest to Houston and the first time Ariza would play against the team with which he won a title. This was a tight game, but what made the difference in the Lakers' 103-102 win?
The Lakers lack of a bench. No I am not speaking in tongue or being ironic. The Lakers' bench looked worse than the shorter rotation of three players off the Rockets' bench. The Lakers' bench put up 16 points and 12 rebounds. Truth be told, the Laker starters played significantly more minutes. Nonetheless, off the Rockets' bench, Carl Landry and Kyle Lowry, two solid young players, combined for 28 points and 11 rebounds. The game should not have been so tight, but the Lakers' bench lacked Odom and, in this game, production. Advantage Rockets.
Derek Fisher v. Age. I meant Fisher v. Aaron Brooks. Brooks had an inconsistent game, finishing with 15 and 7 turnovers to his 6 assists. Fisher, on the other hand, was consistent all night long: 0-5 from the field with 0 points. Whew. Jackson and Kupchak were right—I see no drop off with age. Aside from his 2 steals, Fisher was non-existent, allowing Brooks to both help his team with scoring and hurt his squad with turnovers. Advantage Father Time, and Brooks, slightly.
NBA.com's Michael Murphy suggests, as does Kobe Bryant, that Andrew Bynum had a pretty great game last night against the Rockets. I mean, yes, he had 17 and 17, but it's not enough. He was playing against the long, but short (6'6) center Chuck Hayes, a player with a brief and unremarkable career. Last season Hayes showed signs of life, putting up about 8 and 8 in a supporting role. Bynum, 7'1, had a decent game, but compare it to Hayes' 14 and 14. They had a similar performance and both scored late in the game. Slight advantage Bynum.
The big theme of the night—Trevor Ariza v. Ron Artest—did not disappoint. The players who switched teams over the summer also exchanged three pointers in the final minute, Ariza's three sending the game into overtime. In the pre-game, commentators Stu Lantz and Joel Meyers were talking about how Artest would be fine, and Ariza would be gun-shy and nervous to play against the Lakers. There is some truth to that if we look at Ariza's field goals (5/21 or 23%). Although each scored 15, Ariza had 9 rebounds and 5 assists to Artest's 6 boards and 1 assist. After their big threes, neither Artest nor Ariza scored in overtime, where Bryant and Bynum stepped up. Advantage Ariza.
It was close and like the Rockets' coach Rick Adelman said in Murphy's recap "We should have won." But, Gasol or no Gasol, the Lakers had Kobe, who put up 41 on an efficient 15/30 or 50% from the field. He also paced the Lakers with 4 steals (more than Artest and Ariza combined). At the end of the day, Kobe made the difference. His shot was on like a marksman from the very beginning. His first shot was almost unbelievable (especially considering it was his first attempt of the game). Check it out:
As cliché as it sounds, with a healthy Gasol back into this lineup, the Lakers are again one of the elite teams in the league. Until then, they are 4-1. Gasol, according to the Fox Sports West telecast last night, might be back for the Lakers' next game, Friday night against his former team the Memphis Grizzlies, but other reports have him out until at least Sunday.