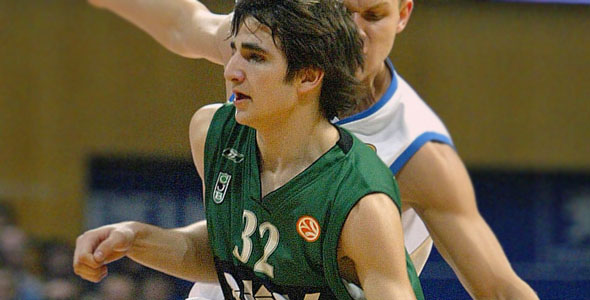 September 3, 2009 – Ryan Desmarais
Ryan Desmarais is a senior at the University of New Hampshire at Manchester, where he will receive his BA in English in December 2009. Ryan is also a writer at The Bleacher Report and Celtics Town. He currently resides in Manchester, NH.
They say you only have one chance to make a good impression.
Ricky Rubio's impression on the NBA and its fans is far from that.
We've heard all summer about the continuing struggle between Rubio, the Minnesota Timberwolves, and his Spanish club, DKV Joventut, about Rubio's potential buyout so that he could play here in the States. On Tuesday, we heard that he was bought out by another Spanish club, Barcelona, and that he'd be in Spain for at least two more years.
That's fine. Business deals happen. It's understandable that Barcelona offered more money to buy out Rubio than Minnesota could offer.
That's not the issue.
The major issue here is that it was Rubio who decided to stay in Spain, even though the Timberwolves and Joventut had a buyout deal in place.
And this is a guy who says his number one objective is to get to the NBA.
We'll probably never know why Rubio actually decided to stay overseas for a couple more years instead of living out his "dream" of playing in the league. We can only speculate.
And there's been plenty of that already.
Maybe his reason was because he doesn't feel like he's ready for the NBA game. I have no problem with a guy who'd rather work on his skills a little more when he knows he's not ready. In fact, I find it almost admirable.
But if you absolutely know that you're not ready, why bother entering the NBA Draft?
I would've respected Rubio a little more if he had decided to skip the Draft and play overseas for two more seasons instead of toying with an NBA team before deciding that he wasn't ready, leaving the team scraping for an immediate replacement.
In the end, Rubio wasted the time of every NBA owner and general manager who scouted him, especially Timberwolves president David Kahn who flew to Spain numerous times this summer to try and make a deal work out with Joventut.
Luckily, Minnesota picked up, like, two dozen point guards during the offseason. They'll probably find somebody to plug in.
Maybe he just didn't want to play for Minnesota. Maybe Rubio was unhappy with where he was drafted and who he had to compete with. Maybe he didn't like the less-than-mediocre play he was going to have to endure.
Unfortunately, you can't decide where you're going to get drafted. Last time I checked, the Timberwolves were still in the NBA. Last time I checked, you said your dream was to play in the NBA. Sounds like a dream come true to me.
Luckily for Rubio, he won't have to compete for a job on the team. That battle's over and done with as Jonny Flynn becomes the future of the franchise, while Rubio will probably become an afterthought when his time in Barcelona is done.
Whatever Rubio's reason was, we can probably blame his immaturity as the root of it. He's only 19 years old and teenagers waver on their opinions by the second. His youthfulness probably wanted him to stay close to home and near his family and friends.
But at the same time, Rubio's jeopardizing his immediate future.
He'll probably never put on a Timberwolves jersey. He's already left a bad taste in the mouths of the owner, the entire front office, and the dedicated fans of a city that really embraces their basketball team.
There's no doubt that when Rubio decides to come to the NBA, he's going to have to do some image damage control.
It's strike one for Rubio.