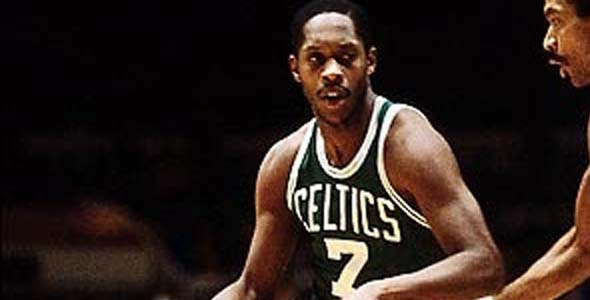 September 2, 2009 – Allen Moll
Allen Moll is an avid NBA and College Basketball fan who watches and studies games religiously and coaches youth basketball in his native Lehigh Valley region of Pennsylvania. Allen is a regular columnist for thehoopdoctors.com, Bleacherreport.com, Fanhuddle.com as a NY Knicks and Wizards correspondent, and his own blog, Hoops Haven.
On this date in history, September 2nd, 1948, Nathaniel Archibald was born, better known to the basketball world as "Tiny". Archibald took his blinding quickness and incredible speed with the basketball from the playgrounds of the South Bronx, NY all the way into the Naismith Basketball Hall of Fame.
He used early personal struggles in his life as well as being told he was too small to play as motivating factors to become an All-Star and NBA Champion.
After being cut from his high school team as a sophomore, he continued honing his skills on the legendary NY playground circuit. His legend was almost cut short since he fell in with the wrong crowd and started skipping school. Luckily two mentors took him under their wing and convinced his HS coach to give him another shot as well as concentrating on schoolwork, which was keeping major college scouts away. His game was there, but the grades still were not, so Archibald attended Arizona Western College for one season before transferring to prestigious Texas Western University, which is now known as UTEP. Because of not concentrating on academics in HS, he just missed playing on the now famous 1966 National Championship team.
Archibald gives Coach Don Haskins at UTEP credit for helping to improve his game and prepare him for life in the NBA. He was selected #19 in the 2nd round, in 1970, by the Cincinnati Royals. Teams were concerned by his lack of height and how he was going to be able to defend bigger guards. All the teams that passed over him now would have to be concerned with how to stop Archibald.
It only took "Tiny" until his 3rd season in '73, to make his mark on the NBA by leading the league in both scoring and assists, a record which still stands today. Oscar Robertson led the league in both scoring average and assists per game in the '67-'68 season but did not officially win the titles because they were based on totals rather than averages at the time. That season his scoring average(34.0ppg) and assists per game(11.4) were both records at the time. Such a tremendous season didn't even earn him league MVP, which was won by Dave Cowens, of the Boston Celtics.
After a few injury plagued seasons with the Kings and Nets, he was traded to the Boston Celtics before the '78-'79 season. It wasn't until he was paired with the talented trio of Bird, Parish, and McHale that he averaged 13.8 points and 7.7 assists iand won his lone NBA title in the '80-'81 season. He played his last games in the NBA for Milwaukee Bucks in 1984.
Archibald was a 6 time All-Star, 5 time All NBA Selection, '81 All-Star MVP, elected to the Naismith Basketball hall of Fame(1991), and named a member of the 50 Greatest Players in NBA History(1996). Tiny ranks in theNBA Top 100 All -Time in Minutes Played, FG Made, FG Attempted, FT Made, FT Attempted, Total Points, Points Per Game, and 19th in Assists(ranked 9th at retirement).
Archibald paved the way in his 13 seasons for many of the league's smaller stars like Allen Iverson to be given a chance to excel among the trees of the NBA.
Here is some retro Tiny Archibald footage hosted by Nate himself: