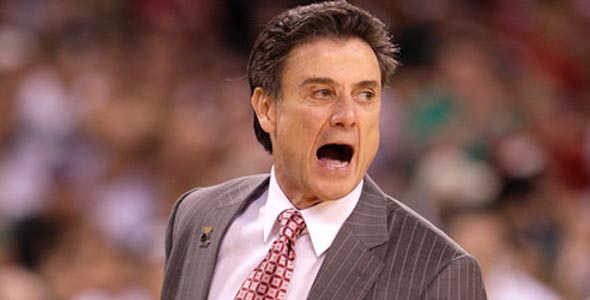 August 13, 2009 – Ryan Desmarais
Ryan Desmarais is a senior at the University of New Hampshire at Manchester, where he will receive his BA in English in December 2009. Ryan is also a writer at The Bleacher Report and Celtics Town. He currently resides in Manchester, NH.
The University of Louisville put their faith in Rick Pitino.
School officials believed that he would be the right man to lead a group of talented kids through challenging basketball seasons year in and year out.
They believed that he would help produce victories and, ultimately, championships for a school that hadn't cut down the nets since 1986.
They believed that he would be a role model for the young men that would become part of the Louisville community.
The University was half right.
The Cardinals have won 200 games in Pitino's eight seasons at the helm. They've made the NCAA Tournament six times, advanced to the Elite Eight twice, and made a trip to the Final Four in 2005.
Pitino has padded his legacy as one of the greatest coaches in college basketball history during his time at Louisville, upping his career win total to 521. With five career Final Four appearances and a National Championship on his resume, Pitino is a sure bet for the Hall of Fame.
However, his image has taken a huge hit over the last couple of days due to a sex scandal that involves a restaurant, health insurance, and $3,000.
Amazingly, those seem to be the only parts of the scandal that are clear-cut.
Pitino, his lawyers, and the University have been doing some major damage control since the story broke in an attempt to save face amidst contrasting reports.
But the best damage control for all parties involved is for Pitino to resign.
Immediately.
The scandal has caused some major trust issues between Louisville and Pitino. Although Pitino had told University President James Ramsey earlier about the extortion attempts by Karen Cunagin Sypher, the woman involved in the scandal, Ramsey said he found some of the details of the scandal "surprising."
No matter what job you have, it's never a good idea to surprise your boss with really bad news.
Especially when it involves legal matters.
Anytime there's a negative surprise, it usually means that the whole truth didn't come out immediately. Now that Ramsey knows that Pitino's been hiding the truth from him, is Ramsey going to be able to fully trust Pitino to run the program going forward? It's not going to help matters.
But the real trust issues come with Pitino's most important resource: the recruits and their parents.
Pitino's coaching numbers speak for themselves. But whether it's fair or not, the parents of his top recruits expect him to help build their teenage kids into respectable young men.
These parents see the head coach as a main representative of the University when they allow him into their homes on recruiting trips.
Is it possible for these same parents to ignore an extremely messy scandal involving a very powerful head coach who will be guiding their child through the next four years of his life?
Even more, is it possible for the parents to trust a school that doesn't take any disciplinary action on high-ranking officials that are involved in these situations?
This scandal will become a huge distraction for Pitino, the program, and the University as the season gets closer. The media circus will invade Freedom Hall with no intention of asking Pitino about the upcoming Big East schedule. Everything's going to be about the controversy.
The players will be affected by all the negative attention coming their way. How will a group of 18- to 21-year-olds handle the nightly scrutiny of something that isn't even their problem in addition to focusing on their opponent?
Pitino's too deep in this situation right now.
The trust is gone and now he's threatening to get others involved in this mess.
A simple apology won't get the job done anymore.
It's time for him to move on.