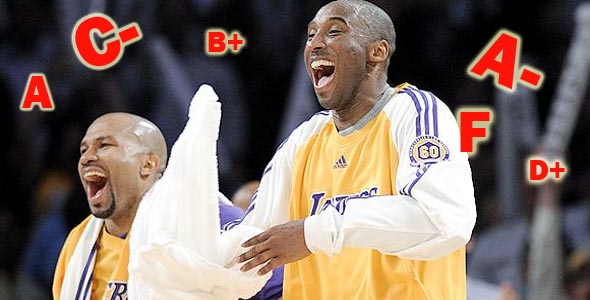 August 13, 2009 – Matt Anaya
Matt graduated from Southern Illinois University at Carbondale in May of 2007 majoring in TV Production. Matt is currently a writer at StaticMultimedia.com, TheBleacherReport.com, NationalSportsNation.com, SportsMixed.com, FanFever.com, Filmcatcher.com, 2 Much Swag, and TheHoopDoctors.com. Matt will provide you with insightful wit and an eager eye for sports.
Ranking the best back courts in the NBA was a difficult task since anyone paired with Kobe Bryant and LeBron James (i.e. Derek Fisher and Delonte West) will be considered near the top. Teams will have similar grades but I ranked them according to superstardom, talent, and depth.
Portland Trail Blazers
Grade: A
Portland's combination of Andre Miller and Brandon Roy gives them an a high grade but the role players set them apart. Steve Blake is a quality backup and Jerryd Bayless is a 2008 Lottery Pick. Martell Webster was a top six pick a few years ago and Rudy Fernandez will likely add to his 10 ppg last season. Lost in the shuffle is another versatile G/F Nicolas Batum who is still only 20 years old and started 76 games last season. The Blazers have a fantastic backcourt.
PG Andre Miller, Steve Blake, Jerryd Bayless, Pat Mills
SG Martell Webster
G Brandon Roy, Rudy Fernandez
G/F Nicolas Batum
San Antonio Spurs
Grade: A
Tony Parker is not only one of the best PGs in the world he is one of the best players in the world. The addition of Richard Jefferson will help the Spurs immensely as he will take the scoring burden off of the Spurs big three. If Manu Ginobili can stay healthy the Spurs will win it all.
PG Tony Parker, George Hill, Jack McClinton
G/F Richard Jefferson, Michael Finley, Malik Hairston, Marcus Williams
SG Manu Ginobili
G Roger Mason
Washington Wizards
Grade: A
The Wizards have a very deep and talented backcourt but the problem is there may be too many good players and only one ball to go around. Gilbert Arenas and Caron Butler need their 20 shots per game and the rest of the backcourt needs to accept being role players. If Arenas can stay healthy, the Wiz should be one of the biggest surprises in the NBA this season.
PG Gilbert Arenas, Mike James
G Randy Foye, Javaris Crittenton, DeShawn Stevenson
G/F Caron Butler, Mike Miller, Nick Young
Atlanta Hawks
Grade: A
The foundation of the Hawks is their talented veteran backcourt. PG Mike Bibby is a good floor leader and looks to help his teammates more than anything. Former Olympian Joe Johnson gets open shots because of Bibby's PG abilities and sharp shooter Jamal Crawford will also benefit from the Arizona alum. First round pick Jeff Teague is the future of Atlanta's backcourt and will take over after Bibby's three-year contract is up.
PG Mike Bibby, Jeff Teague
SG Jamal Crawford
G Joe Johnson
G/F Maurice Evans, Mario West
Cleveland Cavaliers
Grade: A
It could be LeBron James and no one and I would still give them an A. Well … actually … it is LeBron James and no one. If the Cavs want to win it all they will need Mo Williams to either step up his scoring or apg. The Cavs strength is their frontcourt and if they get production from veterans Delonte West, Anthony Parker, and Daniel Gibson they will definitely contend for a title.
PG Mo Williams,
G Delonte West, Daniel Gibson
G/F LeBron James, Danny Green
SG Anthony Parker
Los Angeles Lakers
Grade: A
The Lakers backcourt is not their strength but they still have Kobe Bryant. 24 makes them grade out highly but the rest of the backcourt is strictly role players. Thanks to Bryant and the Lakers massive frontcourt the Lakers will contend for another title next season.
PG Derek Fisher, Jordan Farmar, Shannon Brown
SG Kobe Bryant, Sasha Vujacic
G/F Adam Morrison
Los Angeles Clippers
Grade: A
The Clips are a team that should be much better. The roster is stacked and that includes backcourt studs Baron Davis, Al Thornton, and Eric Gordon. All three have great size at their positions and are quality NBA players but Davis averaged 15 ppg last season his lowest since 2001. If Thornton and Gordon keep improving and the rest of the Clips play like they should, the Clips … dare I say it (?) … will make the playoffs in 2010.
PG Baron Davis, Sebastian Telfair, Mardy Collins
G/F Al Thornton, Ricky Davis
SG Eric Gordon
Toronto Raptors
Grade: A
Are Paul Pierce, Rajon Rondo, and Ray Allen better than the Raptors best three? Yes, but they Celtics do not have the depth the Raptors have. Toronto drastically improved their backcourt by adding Hedo Turkoglu, Jarrett Jack, Antoine Wright, DeMar DeRozan, and Marco Belinelli this off-season. The Raptors were supposed to be good last season and will battle Philly for 2nd place in the Atlantic Division this upcoming season.
PG Jose Calderon, Jarrett Jack, Roko Ukic, Marcus Banks
G/F Hedo Turkoglu, DeMar DeRozan
SG Antoine Wright, Marco Belinelli, Quincy Douby
Boston Celtics
Grade: A
Paul Pierce, Rajon Rondo, and Ray Allen is still a high quality backcourt even if it is 2009. It will be fun to see how Rondo reacts this season, as he was mentioned in numerous trade rumors this off season and will likely ask for a monster contract after next season. Ray Allen is on the decline and on the way out but he and Pierce can still average close to 40 ppg combined. If the Celtics want to contend they will need a lot more depth to take the pressure off their veterans.
PG Rajon Rondo, Eddie House
SG Ray Allen, Tony Allen
G/F Paul Pierce, J.R. Giddens
Dallas Mavericks
Grade: A
The venerable Bill Simmons likes to joke that the Mavs are the 2004 All Stars but I still like this team and backcourt. Jason Kidd does not do much defensively but he can still run the break, rebound, and occasionally score. Jason Terry can fill it up and Josh Howard was an All Star two years ago. The Mavs are a good team and will go as far as their porous defense lets them.
PG Jason Kidd, J.J. Barea, Rod Beaubois
G Jason Terry, Greg Buckner
SG Matt Carroll
G/F Josh Howard, Quinton Ross
Indiana Pacers
Grade: A
The Pacers have a very nice backcourt including 2012 Team USA hopeful Danny Granger. Granger averaged 25 ppg last season and is the Pacer cornerstone. Indiana's backcourt consists of Granger, Mike Dunleavy Jr. (career year two years ago), PG T.J. Ford (career high 15 ppg last season), and 2008 Lottery Pick Brandon Rush. The Pacers lost PG Jarrett Jack but the backcourt still features veteran depth and talent. Indiana will be in the 2010 playoff hunt.
PG T.J. Ford, Earl Watson, Travis Diener, A.J. Price
G/F Danny Granger, Mike Dunleavy
SG Brandon Rush, Dahntay Jones
Miami Heat
Grade: B+
Even with superstar Dwyane Wade this backcourt is nothing spectacular. Wade has to do all the work and now I see why Wade does not want to commit long term in Miami. Chalmers is a good PG but is not good enough to take the pressure off Wade and neither is anyone else on this team. FYI, Wade recently bought a million dollar town house Chicago.
PG Mario Chalmers, Chris Quinn
G Dwyane Wade
SG Daequan Cook
G/F Dorell Wright, Yakhouba Diawara
Orlando Magic
Grade: B+
Although the Magic lost 20-ppg scorer Hedo Turkoglu this off-season they still maintain a quality backcourt. 2009 first time All Star Jameer Nelson will look to stay healthy and build on last season's break out year. Vince Carter will take some pressure off Nelson and Dwight Howard like Turkoglu did last season and J.J. Redick may turn relevant this season. Even after losing their best scorer, the Magic are still one of the best teams in the NBA.
PG Jameer Nelson, Anthony Johnson
SG J.J. Redick
G/F Vince Carter, Mickael Pietrus
Chicago Bulls
Grade: B+
The Bulls have been addressing their frontcourt needs for years and have neglected their backcourt causing them to lack depth. The Bulls will miss Ben Gordon's scoring ability and will need more out of Luol Deng and 2012 Team USA probable Derrick Rose. Chicago will be in the middle of the Eastern pack this season but will contend for a long time after 2010.
PG Derrick Rose, Lindsay Hunter
G Kirk Hinrich, Jannero Pargo
G/F Luol Deng, John Salmons
Utah Jazz
Grade: B+
Deron Williams is a premiere NBA PG and a member of Team USA and needless to say he drastically improves the Jazz backcourt. Ronnie Brewer broke out last season averaging career highs in points, blocks, assists, rebounds, and he also tried out for Team USA. Kyle Korver is a premiere sharp shooter and C.J. Miles also averaged career highs across the board last season. The Jazz drafted natural PG Eric Maynor and their backcourt is young and improving.
PG Deron Williams, Eric Maynor, Ronnie Price
G Ronnie Brewer
SG Kyle Korver
G/F C.J. Miles
Charlotte Bobcats
Grade: B+
The Bobcats are in a contract extension impasse with starting PG Ray Felton but the 'Cats seem to have the upper hand in these negotiations. They will likely retain Felton on a qualifying offer and watch him walk next off-season. D.J. Augustine will take over at PG and Charlotte will build around him, Gerald Henderson and Gerald Wallace. This is a very young and talented backcourt and Charlotte will battle for a playoff spot this season.
PG Ray Felton, D.J. Augustine
SG Raja Bell, Gerald Henderson, Dontell Jefferson
G/F Gerald Wallace
Detroit Pistons
Grade: B
Detroit has multi talented guards but neither Rodney Stuckey, Richard Hamilton, nor Ben Gordon can run the point. Along with their offensive deficiencies Stuckey and Gordon are also not known for their defense. Until the Pistons figure out a starting PG and find more than two players that will play defense, this backcourt will remain just above average.
PG Rodney Stuckey, Will Bynum
SG Ben Gordon
G/F Richard Hamilton
Golden State Warriors
Grade: B
There is no questioning the talent level on the Warriors. In fact, if you ask me they are one of the most talented teams in the NBA and their backcourt is a major reason why. Although without a veteran PG, Stephen Curry should adapt quickly and the Warriors typically use Monta Ellis and/or Stephen Jackson to facilitate the offense. If the Warriors played any defense they would be a quality team but they do not play defense and are not a quality NBA team.
PG Stephen Curry, Acie Law, Speedy Claxton
G Monta Ellis, Anthony Morrow
G/F Stephen Jackson, Corey Maggette, Kelenna Azubuike,
Oklahoma City Thunder
Grade: B
The Thunder were downgraded due to their lack of a true starting PG, as Russell Westrbook is a beast but is better served at the off guard position. OKC's star G/F Kevin Durant is a top five NBA player and is a lock for the 2012 Team USA roster and rookie James Harden is great guard prospect. This will be the last season the Thunder do not make the playoffs for a long time.
PG Russell Westbrook, Kevin Ollie, Shaun Livingston
SG James Harden
G/F Kevin Durant, Thabo Sefolosha, Kyle Weaver
New Jersey Nets
Grade: B
New Jersey has a couple young quality guards but the backcourt is a year or so away from being great. Devin Harris might make the 2012 Team USA roster and the Nets drafted G/F Terrence Williams from Louisville who projects to be an above average guard. The Nets are going for quantity over quality this season but that will change, as they will save $20 million when Rafer Alston, Bobby Simmons, and Trenton Hassell come off the books after next season.
PG Devin Harris, Rafer Alston, Keyon Dooling
SG Courtney Lee, Bobby Simmons, Trenton Hassell
G/F Terrence Williams, Chris Douglas-Roberts
Phoenix Suns
Grade: B
The Suns backcourt features Hall of Fame point guard Steve Nash, high flying Jason Richardson, and that is about it. Leandro Barbosa's ppg has decreased the past three seasons and Grant Hill has become a role player. Goran Dragic and Alondo Tucker offer very little and the Suns need to start trading their assets if they want a bright future.
PG Steve Nash, Goran Dragic
G Leandro Barbosa
G/F Grant Hill, Alondo Tucker
SG Jason Richardson
Sacramento Kings
Grade: B
Sacramento's backcourt has not played a minute together and they already grade out fairly well. Tyreke Evans will likely be the starting PG, although Kings management signed Beno Udrih to a lucrative long-term deal last off-season. Alongside Evans will be scoring machine Kevin Martin who averaged a career high in mpg and ppg (24.6) last season but only played in 51 games. The Kings will not make the playoffs this season but have a very nice future in their backcourt.
PG Tyreke Evans, Beno Udrih, Sergio Rodriguez
SG Kevin Martin
G/F Francisco Garcia
Philadelphia 76ers
Grade: B –
Andre Iguodala is a great G/F and is in contention for a spot on the 2012 Team USA roster but this is a big year for PG Louis Williams. Williams was handed the starting PG job with a career average of 2.4 apg and his backup, Jrue Holiday, turned 19 in June. This backcourt needs more depth, talent, and a veteran PG after losing Andre Miller to free agency.
G/F Andre Iguodala
PG Louis Williams, Jrue Holiday
SG Willie Green, Royal Ivey
G/F Jason Kapono
Houston Rockets
Grade: B –
Aaron Brooks was a nice surprise last season and looks like the incumbent PG next season. Kyle Lowry is a quality backup PG and Trevor Ariza instantly becomes one of the best players on the team. The Tracy McGrady experiment is nearly over and the Rockets won only one playoff series during his tenure, although he was injured during the series.
PG Aaron Brooks, Kyle Lowry
G/F Trevor Ariza, Shane Battier, Brent Barry, Chase Budinger, James White
G Jermaine Taylor
SG Tracy McGrady
New Orleans Hornets
Grade: C
Without Chris Paul this would be an awful backcourt and it is still is a bad one. CP3 may be the best PG in the world but even he cannot turn water into wine. Morris Peterson's skills have diminished, Devin Brown never had much skill, and Antonio Daniels is making way too much money for 12 mpg. The Hornets are in financial trouble and may be in more trouble when Chris Paul becomes discontent with the team next season.
PG Chris Paul, Darren Collison
SG Devin Brown
G/F Morris Peterson
G Antonio Daniels, Marcus Thornton
Denver Nuggets
Grade: C
Denver's strength lies up front and not in their backcourt. The backcourt is very thin and Chauncey Billups is not getting any younger. Ty Lawson is a nice change of pace PG, Arron Afflalo can play great defense, and J.R. Smith can fill it up with the best of them. The Nuggets backcourt is not be the reason they will win or lose but Denver management may want to find some upgrades.
PG Chauncey Billups, Ty Lawson, Anthony Carter
SG Arron Afflalo, J.R. Smith
Minnesota Timberwolves
Grade: C
Until Ricky Rubio crosses the Atlantic this will be Jonny Flynn's backcourt. Flynn, 20, will be learning on the fly but at least he is not playing a new position. Wayne Ellington is a UNC sharp shooter, Corey Brewer is a defender, and Q-Rich has been on four teams this summer and there are rumors of a fifth (wow). In a few years Minnesota will have Al Jefferson, Kevin Love, and Ricky Rubio maturing together while Flynn is blossoming somewhere else.
PG Jonny Flynn, Chucky Atkins, Bobby Brown, Ricky Rubio
SG Wayne Ellington
G Quentin Richardson, Damien Wilkins
G/F Corey Brewer, Ryan Gomes
Milwaukee Bucks
Grade: C
Even if Ramon Sessions leaves via free agency Milwaukee has nice PG options. Luke Ridnour would start and Brandon Jennings is the future of the Milwaukee backcourt. Michael Redd will likely be traded this season, as he is owed more than $30 million the next two seasons and hopefully the Bucks can get something for him because this team is a long ways away.
PG Ramon Sessions, Luke Ridnour, Brandon Jennings
SG Michael Redd, Charlie Bell, Jodie Meeks, Sonny Weems
Memphis Grizzlies
Grade: D
Both Mike Conley and O.J. Mayo are very nice guard prospects but if the Allen Iverson rumors are true they dynamic combo may regress this season. Memphis needs a lot of help in their backcourt but in this case Iverson is not The Answer. Marcus Williams was a former first round pick but has fallen out of favor with two NBA teams already and he was playing in Puerto Rico earlier this year. The Griz cannot get much worse and I have three words for you to Google: Marko Jaric Wife.
PG Mike Conley, Marcus Williams
SG O.J. Mayo
G Marko Jaric
New York Knicks
Grade: F
Nate Robinson is still unsigned but neither Robinson nor Chris Duhon should be starting for an NBA team. The Knicks are still cleaning up Isiah Thomas' mess and it will take a few years.
PG Chris Duhon, Nate Robinson
G Joe Crawford, Toney Douglas
SG Larry Hughes