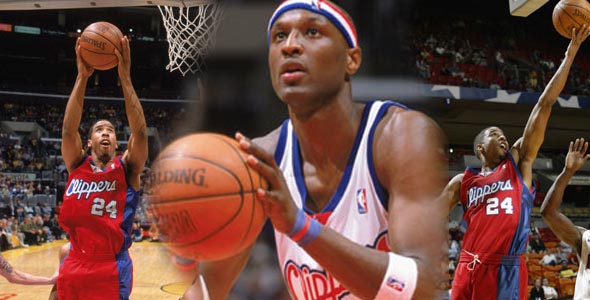 July 9, 2009 – Allen Moll
Allen Moll is an avid NBA and College Basketball fan who watches and studies games religiously and coaches youth basketball in his native Lehigh Valley region of Pennsylvania.
We all have heard of the "big fish" free agent signings of Ben Gordon revving up the Pistons, Hedo Turkgolu flying to Toronto, and Rasheed Wallace going green in Beantown. Only one team can win the the best trophy in sports, the NBA Championship. While many teams are breaking the bank trying to land the one big piece to there championship puzzle, often it is the aging veteran or role player picked up near the end of free agency that make the most difference to their respective new teams.
Two free agent players, who last season were vital to their team's success yet still remain unsigned, are Andre Miller of the Sixers and Lamar Odom of the Champion Lakers. And yes, Clipper Nation out there will be unhappy to know that both these solid free agents are ex-Clippers. In fact they were teammates back in 2002-03.
Andre Miller had a great season with Philadelphia last season, once again playing in all 82 regular season games, averaging 16.3 ppg, 4.5 rpg and leading the team with 6.5 assists per game. He was the glue that kept a young Sixers team together, giving them a healthy dose of leadership and composure. With his patented 6 inch vertical leap on jump shots and proven" best head fake in basketball", he finished second in team scoring behind Andre Iguodala in the regular season and upped his average to a team leading 21.5ppg in the playoffs. Miller has arguably gotten better with age while ranking in 4th among active players in assists, trailing only Jason Kidd, Steve Nash, and Steph Marbury. He also ranked in the top 20 in the NBA last season in assists, steals,minutes, and assist to turnover ratio. He has been virtually injury free, playing in 80 or more games every season of his career. The negatives to Miller's game has always been his lack of athleticism and seemingly being a step slow on defense. At age 33, and a ten year veteran, Andre could be the missing piece for a team needing a proven floor general.
After being on the verge of being a legendary flop, Lamar Odom instead became a legend by helping lead the Lakers to the 2009 NBA title. After being drafted by the Clippers 4th in the 1999 draft, Lamar has never lived up to the lofty expectations which where thrust upon him of being the next Magic Johnson. Although deemed by most as a disappointment, the 10 year veteran has quietly been one of the NBA's most versatile and productive players. Odom ranks 10th among active players in rebounds. He finally found his niche with the Lakers averaging 11.3 ppg, 8.8 rpg, along with 2.6 assists per game last season. At 6'10, Odom is one of the few unique players in the NBA who can play every position on the floor, offensively and defensively. At this point in his career however, he must be a complimentary player and not the go to guy. Last season he ranked in the top 20 in rebounds and blocks. Also at 31 years of age, the obvious knock on Lamar has to be his penchant for injuries, since he has never played an entire 82 game season. He has also been known to coast and seem disinterested in games at times. The positives are his obvious athleticism and proven playoff experience.
Reports and rumors don't seem to show that any team has major interest in either player. The Sixers have not offered the multi-year deal that Miller desires, even though he would be the perfect mentor for the newest Sixer, Jrue Holiday. Portland has shown some interest but have passed because of age and unwillingness to give him a multi year deal. News has been scarce on Odom and will probably continue with LA acquiring Ron Artest while letting Trevor Ariza defect to Houston. His saving grace may be Kobe Bryant not opting out and asking for a bigger contract, in effect allowing the Lakers more money to resign players. Don't be surprised if one or both of these players wind up next April or June trying to lead their teams to the NBA promised land.