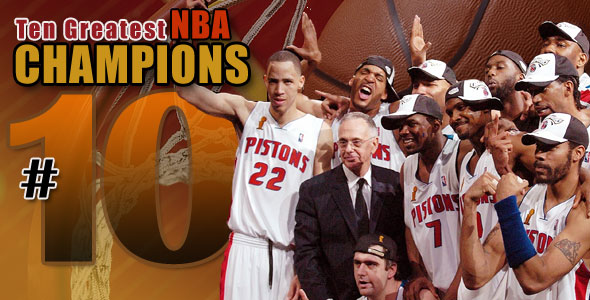 July 8, 2009 – Allen Moll
Allen Moll is an avid NBA and College Basketball fan who watches and studies games religiously and coaches youth basketball in his native Lehigh Valley region of Pennsylvania.
With this season's NBA Finals behind us, I decided to take a look back and rank the greatest NBA Championship teams in the modern era (post 1980). This will be a ten part series with a new entry each week. Which teams had the most dominating seasons and playoff runs in the last 30 years? How would they stack up against each other? Which teams had the most Hall of Fame players or coaches? The rankings were limited to two teams per franchise in the top ten. Let the debate begin.
#10 – 2004 Detroit Pistons
Regular Season Record: 54 – 28, Playoff Record: 16 – 7, Beat Los Angeles Lakers 4 – 1 in the NBA Finals
Impact Players: Chauncey Billups, Rip Hamilton, Rasheed Wallace, Tayshaun Prince, Ben Wallace
Individual Awards: Ben Wallace – All NBA Second Team, Chauncey Billups – Finals MVP
In the year in which we were introduced to "King James" in NBA arenas, the Detroit Pistons were the class of the league. GM Joe Dumars re shuffled his '02-03 squad by firing Coach of the Year Rick Carlisle and replacing him with Hall of Famer Larry Brown, acquiring Chauncey Billups from Minnesota, and inserted into the starting lineup, second year player Tayshaun Prince. But after struggling through most of the regular season, he made one of the best trade deadline deals ever by acquiring Rasheed Wallace, instantly getting his unique toughness, swagger, and 13 ppg. Sheed fit like a glove, adding his hard nosed defense to a team which only allowed a NBA best 94 ppg during the regular season, as well as averaging more than 43% on threes. This team made us remember back to the Pistons' "Bad Boy" championship teams of '89 and '90 with stifling team defense, especially by Ben Wallace who was 2nd in the NBA with 12.4 rebounds and 3 blocks per game. During the regular season, they became the first team to hold an opponent under 70 points in 5 consecutive games.
In the playoffs, the Pistons were "firing on all cylinders" with Rip Hamilton leading offensively by coming off of screens to average 21 ppg and Chauncey Billups, who became known as "Mr Big Shot" by hitting seemingly endless clutch and game winning shots. In the Finals, they embarrassed a heavily favored and revamped 3-time Champion Lakers team 4-1, led by Kobe, Shaq, Karl Malone, and Gary Payton. The Pistons were so dominant that the series became known as " The Five Game Sweep", with the Lakers winning only Game 2 on Kobe's game tying shot in regulation, sending it into overtime. They essentially ended the Laker dynasty since the team was dismantled in the off-season with only Kobe left behind to rebuild. Many experts agree that this was one of the best defensive teams of all-time. They were so dominant that they went back to 4 more Eastern Finals, making it back to the '05 Finals, only to lose to another dynasty, Tim Duncan's San Antonio Spurs.