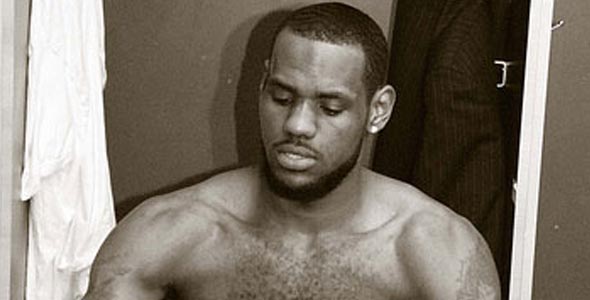 July 8, 2009 – Dr. Dime
On Monday night at the Nike LeBron James Skills Academy in Akron, Ohio, NBA star Lebron James was dunked on huge by Xavier's Jordan Crawford with a vicious two-hander. Unfortunately you won't be seeing the replay of the dunk anytime soon. According to CBS Sports who was in attendance and filming the game, the Nike officials upon convening with Lebron after the play confiscated all of the cameramen's tapes from their cameras. Here is what CBSSports.com had to say about it:
Turns out, there were at least two cameras rolling Monday night when Crawford dunked on James during a pick-up game here at the LeBron James Skills Academy. It was a two-handed jam, the kind that would've circulated quickly on YouTube. But Nike officials eliminated that possibility shortly after the dunk happened by allegedly confiscating tapes from various cameramen.

Freelance photographer Ryan Miller was one of the cameramen shooting the game.

He told CBSSports.com that Nike Basketball Senior Director Lynn Merritt took his tape.

"He just said, 'We have to take your tape,'" Miller said. "They took it from other guys, too."

Worth noting is that there is no policy against filming at the LeBron James Skills Academy, and Miller said he had been filming all day without incident. Nobody ever told him to stop. Nobody ever said there was a problem … until after Crawford dunked on James.

"LeBron called Lynn over and told him something," Miller said. "That's how I knew his name was Lynn. LeBron said, 'Hey, Lynn. Come here.'"

Minutes later, Miller said Merritt demanded his tape.
Maybe the footage one day will surface in a Nike commercial about Lebron's failures, like that Michael Jordan commercial about all of the buzzer beaters he missed. Sort of a 'you must first fail to learn from your mistakes' type motivational spot. But until then, we'll all just have to imaging how sick the dunk must have been to serve it up on King James.
**Update** Fox Sports had a chance to ask Jordan Crawford himself to recount his dunk on Lebron James.