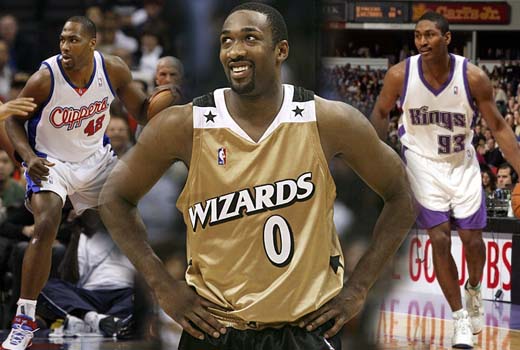 June 30th, 2008 – Dr. Anklesnap
The NBA free agency moratorium is almost upon us. What does that mean? It is a designated period in which teams may hold negotiations about free agents but cannot sign contracts. It is during this time period that the NBA and NBPA conducts an audit that determines the new Salary Cap figure for the following season which will be in effect on the date following the day the moratorium is lifted. This year the moratorium will be from July 1st – July 8th, 2008.
Around draft time we saw a couple of significant trades that changed the jerseys and locations of some big name players such as Jermaine O'Neal, TJ Ford, Richard Jefferson, Yi Lianlian, etc. Although it is still a strong possibility to see further blockbuster moves this summer before the start of training camp for next season, we are now entering a period which can lead to big player movement without an actual trade taking place. Oh yes, Free Agency.


Some players are restricted (their team can match any offer they receive from other teams), some have a player's option to void the final year of their contract (if they do so by the end of day today) and become unrestricted free agents, and others are unrestricted and can basically sign with any team they wish. And to wet your appetite as to what potential players are on the market for your favorite team to possibly acquire, let's do a run down of the top players who are on the NBA free agent market this summer.
*(P) – Player's Option
*(R) – Restricted
*(U) – Unrestricted
Top 10 NBA Free Agents:
1. Gilbert Arenas (P)
Arenas all year long has been talking about opting out of his contract in favor of resigning for a longer term to add greater security and avoid further speculation about his future. For months he has been saying he wants the Wizards to sign Jamison to an extension before he resigns, and that he would take a pay cut from his expected value to ensure it. In the last couple weeks the reports have changed out of the Arenas camp that he now wants a max contract regardless. Are the Wiz willing to pay the big bucks for Arenas after an injury riddled season?
2. Elton Brand (P)
Not a lot of folks around the league have been talking about Brand in the free agent market because he would have to opt-out and walk away from $16 million dollars in the final year of his contract. But some NBA insiders believe that winning is more important to Brand then money at this point in his career, and some believe if the Clippers don't make some moves to ensure success that Brand may be considering jumping ship.
3. Ron Artest (P)
Baggage and all, Ron Artest is still worth a lot more than $8 million a year on the open market. Probably due to the fact that the type of bruising defense Artest brings to the table is a hard to find these days, Ron Ron may end up opting out and moving his sideshow to a bigger market. Anyone for a Bryant-Artest duo in Laker land? After the defensive clinic the Celtics put on the Lakers in the Finals, if I was a Laker executive I'd be certainly putting out the feelers.
4. Baron Davis (P)
Early on in the negotiations to come to terms on a contract extension, the Davis camp threatened to opt-out of the final year of his contract and walk. This may have only been a scare tactic to push the negotiation, but it was enough ray of hope for numerous GM's around the league to start sniffing around to try and acquire a little 'boom dizzle' for themselves.
5. Monta Ellis (R)
There are a lot of big name restricted free agents on the market right now, so some may be surprised to see Ellis so high on this list. However, anyone following the Golden State Warriors knows that Ellis has improved by leaps and bounds over the past two seasons, and his remaining upside is almost endless. GM's around the league should do their due diligence and ensure they tender an offer just in case. Warriors will inevitably match, but you just can't pass on the opportunity with this guy if there is even the slightest of chance you could acquire him.
6. Corey Maggette (P)
The last few days there has been talk about Maggette looking to return to Orlando. Whether or not the Magic are willing to pay the necessary dough to acquire this slashing powerhouse is yet to be seen, but after this season averaging 22 points, 6 boards, and 3 assists it is certainly worth the consideration. Maggette has had a fairly injury prone career, but at only 29 years old he still has tremendous upside.
7. Josh Smith (R)
It is highly unlikely that the Hawks are going to let Smith go under any circumstances. Unless Smith demands to be traded and there is some sort of sign and trade, he's not going anywhere anytime soon. He most likely will get a lengthy contract sometime before the season starts. Probably not a 'max' guy, but he will be somewhere close to it.
8. James Posey (P)
For any teams with legitimate championship aspirations, Posey is a guy you have to look at. He is the 'glue guy' that all contenders are seeking. He plays tremendous defense, has clutch outside shooting, and is the type of guy every player in the league wants on their team come playoff time to go to battle with on a nightly basis. The C's are working hard to come to terms with Posey's agent, but until the ink is dry, GM's around the league will be inquiring.
9. Emeka Okafor (R)
It is still undecided what position in the best fit for Okafor, Center or Power Forward. He has played solid since being drafted and given the right circumstances could be a difference maker on a team looking to get over the hump. Not a player teams should be looking at as a "go-to guy" but he is certainly worthy of a starting nod on most teams in the league. Doubtful MJ will let him go if a team should offer him big bucks, but he could be the subject of numerous sign and trade discussions as things play out.
10. Ben Gordon (R)
Gordon is one of the streakiest shooters in the league right now. When he's hot, he's virtually unstoppable from long range. Problem is that when he's not, his shot selection tends to look quite sketchy. There is also the fact that for some reason he tends to play better coming off the bench than in a starting role. It may just be a mental block, but not a gamble that a lot of GM's want to risk the big money on. Could be a lot of interest among the teams with deep pockets.
*Notable players not in top ten but important to watch during negotiations: Luol Deng (R), Josh Childress (R), Eddie House (U), Sam Cassell (U), Chris Duhon (U), Delonte West (R), Jamaal Magloire (U), Jarvis Hayes (U), Ricky Davis (U), Mickael Pietrus (U), Shaun Livingston (R), Bonzi Wells (U), Antawn Jamison (U), Carlos Arroyo (U), Michael Finley (U).

I'm out like Maggette in LA.