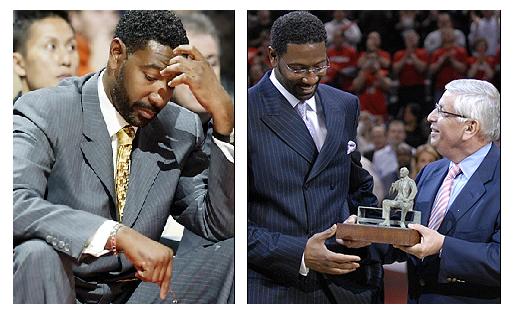 April 24th, 2008 – Dr. Dime
As the 2006-07 NBA season drew to a close, Sam Mitchell defied all the odds signing his second NBA head-coaching contract with the Toronto Raptors. Why was this signing so improbable? Let's take a look at Sam's last three seasons with the Raptors.
In 2005-06 Mitchell was voted by Sports Illustrated as the head coach of its all-dysfunctional team. Mitchell's confrontational nature with the media quickly had him labeled as a "hard nose" head coach. This reputation was echoed further from his past as reports surfaced that during the 2004-05 season he had challenged his starting point guard Rafer Alston to a fight during practice. Mitchell's unprofessionalism could also be noted from the sidelines, as he was often found to be running out and celebrating on the floor with players after game winning shots. In this manner he resembled more of an excited player than a head coach. More and more it was looking as if Mitchell's time in Toronto would be coming to a close at the conclusion or even sooner than the expiration of his inaugural coaching contract.
Two years ago the celebrated firing of Raptors GM Rob Babcock brought in a man by the name of Brian Colangelo, and with him a new era for the Raptors was about to emerge. Given Colangelo's family lineage and coming from the Phoenix Suns some would argue Colangelo sought to transform the Raptors into the Sun's of the East. Although not as successful as the Suns, the Raptors went from missing the playoffs in 2005-06 to a Division winning season in 2006-07, ultimately ending in a first round knock out at the hands of former Raptor Vince Carter and the New Jersey Nets. Although disappointed at seeing the Raptors lose in seven games, fans were optimistic that the direction of the team was finally on the rise. This quick one-year turn around landed Brian Colangelo Executive of the Year honors, a success for which had a trickle down effect, resulting in the voting of Sam Mitchell for the Coach of the Year award. From a public and fan relations perspective, this award ultimately hand-cuffed Colangelo into resigning Mitchell for 4 years at 12 million dollars.
The 2007-08 season picked up where the 2006-07 season left off. The Raptors play was strong out of the gates establishing themselves as one of the stronger Eastern Conference teams. After losing TJ Ford to a hard foul by Al Horford early in the season, backup point guard Jose Calderon stepped in performing magnificently. His ability to generate wins and make the Raptors play better team ball, left fans wondering what would happen upon TJ's return. After a month off and a few games as the back-up, Mitchell quickly plugged TJ back into his original starting role. This line-up change combined with poor play from first round draft pick Andrea Bargnani resulted in the Raptors finishing the second half of the season with a below .500 record.
This post season for the Raptors appears to be leading to another first round exit. Mitchell's insistence on starting TJ ford over a more productive Jose Calderon shows an inability to recognize what's working with his squad. Ford is shooting a dismal 2 for 17 so far in the series, while Calderon is shooting 10 for 22. After going 8 for 15 in game one of the series, Toronto's Center Rasho Nesterovic played just five minutes in game two. Sitting the bench for much of the game behind struggling second year Center Andrea Bargnani, the Raptors clearly struggled securing boards and scoring in the paint. This "small ball" decision from Mitchell left the Raps two points shy of a win as they lost to Orlando for the second time 104 to 103.
Mitchell's bad coaching decisions and widely apparent buddy, buddy nature with players leaves many Raptors fans calling for change. This doesn't look likely to come to fruition, as Maple Leaf Sports Entertainment also owns the Raptors. This organization is notoriously paralyzed by bureaucracy, with a Board of Directors continually more interested in avoiding short term financial loss (buying out Mitchell's coaching contract) than focusing on the long term future of the franchise. This fact coupled with Mitchell's untimely 2006-07 Coach of the Year win, leaves this Hoop Doctor thinking that 'timing is everything' for Mr. Sam Mitchell.