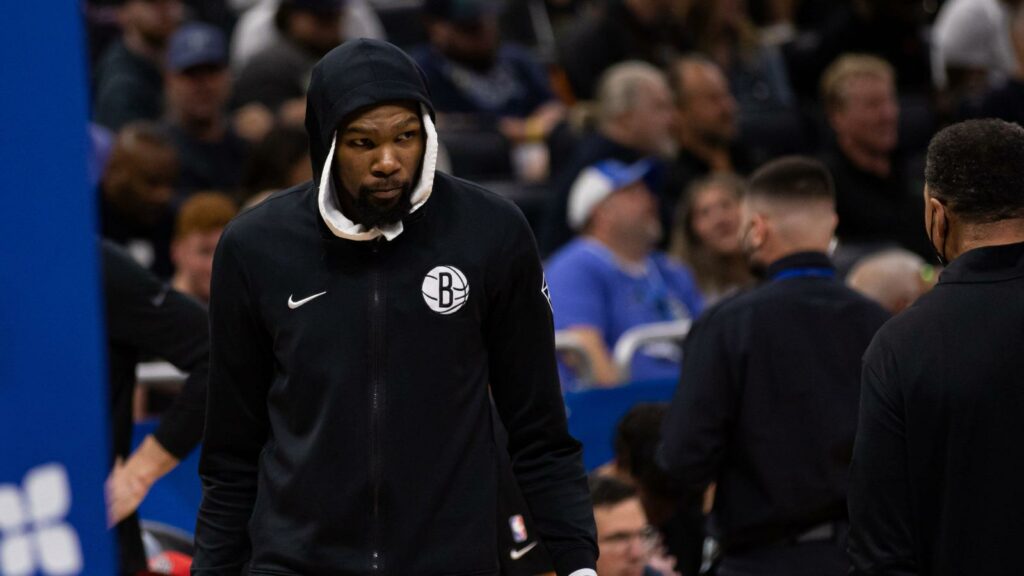 In the latest sports news, Shaquille O'Neal went on Instagram and threw shade towards Kevin Durant, as he shared an image on his story showing Durant's unfortunate failures ever since KD left the Golden State Warriors for playing with the Brooklyn Nets.
It was a tweet that listed KD's accomplishments since he left Stephen Curry, as the numbers 1-3 were listed, but with empty spaces next to them.
The three numbers are the seasons Durant has been in Brooklyn so far.
To be fair to Durant, he didn't even get a chance to play for the Nets at all in his first season, because he was rehabbing a torn right Achilles injury he underwent in the Fifth Game of the 2019 NBA Finals.
Durant had no business suiting up in that game, as he was battling a bad calf strain on the same leg, which kept him out of the entire Conference Finals and the first four games of the Finals, in addition to the last two games of the Conference Semifinals.
Pressure emanating from the media and some inside the Warriors' organization likely got to Durant, but the two-time Finals MVP also almost certainly played in hopes of earning a third consecutive ring. In hindsight, though, Durant would have probably chose to sit out that game.
With that being said, Warriors fans and Shaq need to lay off the criticism a little bit.
Durant's impact in Brooklyn thus far
Durant was available for the playoffs in his next two seasons, but missed significant time during the regular season because of various injuries and spending time in the health and safety protocols.
In his second season, he gave it all he had against the Milwaukee Bucks in the second round of the playoffs, as he lifted a squad without Kyrie Irving and a compromised James Harden to a Game 5 victory after going off for 49 points, 17 rebounds and 10 assists, giving Brooklyn a 3-2 series lead.
Then in Game 7, he had 48 points, nine rebounds and six assists. The biggest moment in that game came when he scored the game-tying shot to send the game into overtime, but if he donned a smaller sneaker or kept his toe just behind the line, the Nets would've won that game and maybe even end up winning a championship.
Durant ultimately ran out of gas in the extra period, but doing what he did against a team that went on to win a championship just goes to show how great he is.
In the third season, he was far from his best self in the first round against the Boston Celtics, which is a huge reason why the Nets got swept. However, Durant barely caught a break during the regular season due to Irving not getting vaccinated against COVID-19 and Harden having his bags packed before the Nets and Philadelphia 76ers could agree to a trade.
There is plenty of blame to go around the Nets' organization for how this season went, but KD shouldn't get any blame whatsoever. He's been everything you could ask for as a leader and perennial MVP candidate.
He was always quick to have Irving's back when it came to the media suggesting he holds Irving accountable in the public eye when it came to his vaccine decision.
Whether Durant agreed with Irving's decision or not, he respected it no matter how much it hurt the team throughout the season. He saw that their friendship was bigger than basketball.
Furthermore, when Nets fans and some members of the media suggested that the Nets fire Steve Nash as their head coach, Durant empathized with Nash and understood that his learning curve had hit a lot of roadblocks, with COVID, injuries and external distractions coming in the way.
When it comes down to players' legacies, all a lot of people care about are the rings and accolades a player achieves. A lot of times, they fail to put things into context and twist things to fit their narrative.
It would certainly help KD's legacy if he can get at least one more ring with the Nets, but even if he doesn't, that shouldn't change the way people view him.