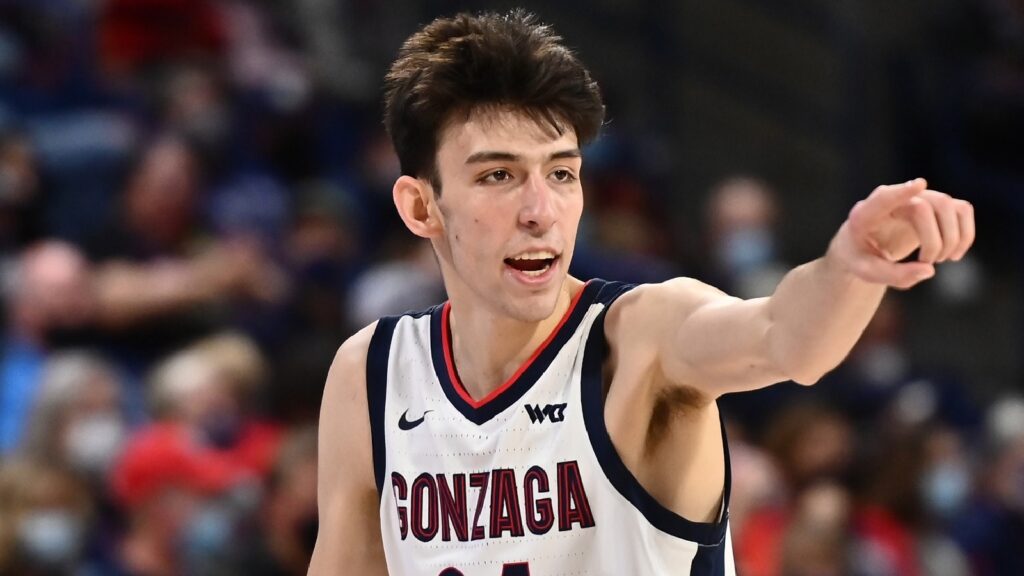 The 2022 NBA Draft Lottery has come and gone, and the draft order is now set. Teams will now begin making their plans for the upcoming draft, and there is a pretty loaded group of players set to enter the league.
These 2022 draft picks could have an impact on the point spread for each of their new teams during the upcoming NBA season. Lottery picks are expected to contribute right away, especially for some of these teams on the list that have really struggled in recent seasons.
Creating a mock draft is not a perfect science, but there are some players that appear to be locked in to a certain team. Trades could always affect the draft order as well, but here is a good prediction on how the first round could go.
1. Orlando Magic: Chet Holmgren
The Orlando Magic could go a couple of different ways with the number one overall pick, and they are a team that has plenty of holes to fill. Jabari Smith from Auburn is a can't-miss prospect at the top of the draft board, but there is someone else that will go number 1.
Chet Holmgren has a skill-set that few in NBA history have ever had, and he will be taken by the Orlando Magic with the top overall pick.
2. Oklahoma City Thunder: Jabari Smith
With the Magic taking Holmgren at number one, Smith is really the only option for the Thunder at number two. Oklahoma City has some playmakers on the wing, but they need to improve inside on both offense and defense.
Smith shot over 40 percent from deep last season at Auburn and he could have an immediate impact in Oklahoma City.
3. Houston Rockets: Paolo Banchero
Houston drafted Jalen Green a season ago, and now they will have the ability to select Paolo Banchero in 2022. Banchero might be the most talented player in the draft and the Rockets will be getting a steal at number three if the former Duke star falls.
4. Sacramento Kings: Keegan Murray
Things will really start to get interesting at number four as there are a couple of great options here. Sacramento could go with Jaden Ivey to complement De'Aaron Fox in the backcourt, but look for them to go in a different direction.
The Kings will select Keegan Murray from the University of Iowa, and he is a player that can have a big impact right away.
5. Detroit Pistons: Jaden Ivey
If Ivey falls past the Kings at four, then look for the Pistons to snag him with the fifth overall pick. Ivey will pair nicely with the roster that they currently have, and could end up being their best scoring threat in a few seasons.
6. Indiana Pacers: Ochai Agbaji
The Pacers need some help in a big way, and selecting Ochai Agbaji can be a big first step as they look to start turning things around. Agbaji just led the Kansas Jayhawks to a National Championship, and he could be the future face of that franchise.
7. Portland Trail Blazers: Jalen Duren
Portland needs a running mate to go alongside Damian Lillard, but they also need help at the center position. If Jalen Duren is still available at pick number 7 then it's hard to imagine Portland not jumping up to take him.
8. New Orleans Pelicans: Shaedon Sharpe
Shaedon Sharpe was the top ranked HS player in his class when he was being recruited by Kentucky. Sharpe actually never played a second at Kentucky for personal reasons, and that could affect his draft stock.
New Orleans will be looking for the best player available here, and that player is Shaedon Sharpe.
9. San Antonio Spurs: Bennedict Mathurin
Gregg Popovich and the San Antonio Spurs are always looking for a specific kind of player in the NBA Draft, and Bennedict Mathurin fits that mold. Mathurin exploded on the scene at Arizona last year, and he will be an impact player at the next level.
10. Washington Wizards: Johnny Davis
Johnny Davis came out of nowhere to lead the Wisconsin Badgers a season ago, and he improved his draft stock every time he stepped on the floor. Davis can do a little bit of everything, and his skill set will help the Wizards on both ends of the floor.