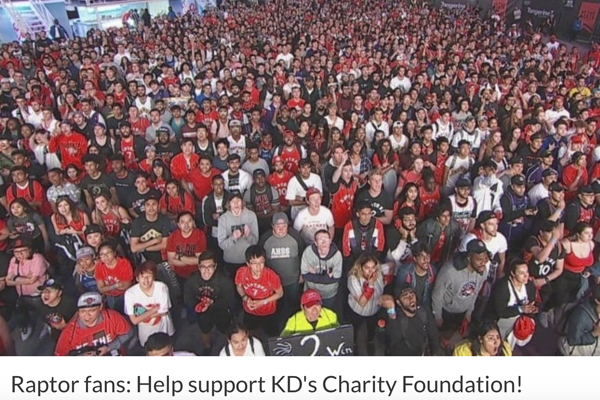 As most of you know, Raptors fans have come under fire for cheering when Kevin Durant suffered an injury during Game 5 in Toronto. The have been called trashy and classless from players to fans across the world.
So in true Canadian fashion, Raptors fan, Hamzah Moin, has decided to start a GoFundMe campaign to apologize for what transpired. The funds will be donated to Kevin Durant's charity in order to apologize for what he says was the "ugly side of fandom" displayed by many fans.
Durant went down early in the second quarter, causing many Raptors fans to start cheering his departure. Although the crowds soon turned the cheers into "KD" chants, the initial damage was done.
"On behalf of the level-headed and true fans of Raptor Nation – from Toronto to Vancouver to Iqaluit to St. John's, and any fans living outside of Canada: we wanted to say 'sorry,'" Moin wrote in the campaign's description.

Moin continued by admitting that while "we're hungry for the championship," the behaviour did not reflect Raptor's fanbase.

"This isn't cool. This isn't right. This isn't what I expect from fellow Canadians," he wrote.

"So I'd like to at least do my part in turning lemons into lemonade and showing the world how uncrappy we are."
As of this morning, less than a day since it started, the campaign has raised over $4,000 of a $25,000 goal, with donations ranging from $20 to $200.
The Kevin Durant Charity Foundation works to enrich the lives of at-risk youth from low-income backgrounds through educational, athletic, and social programs.