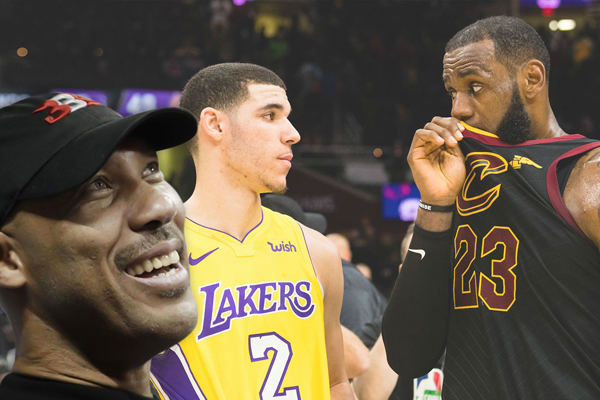 With his son's name dominating the news cycle, LaVar Ball has inserted himself back into the public.
It began earlier this week, when Ball told ESPN that Lonzo would prefer to play in Phoenix rather than New Orleans if he became a part of a Anthony Davis trade. It then jumped a level when Ball told a Phoenix radio station that Luke Walton was basically a lousy head coach. Then just hours before the NBA trade deadline, while on FS1's Undisputed, LaVar took it up a notch said his son Lonzo Ball was better than LeBron:
.@ShannonSharpe: Are you saying Lonzo is better than LeBron?@Lavarbigballer: Yes. pic.twitter.com/8sR2og2Mej

— UNDISPUTED (@undisputed) February 7, 2019
He also pointed out that the Lakers would never get a championship with LeBron James if they traded Lonzo:
"[The Lakers] trade my son they'll never get a championship. … LeBron James without Lonzo is not going to win a championship in L.A. I guarantee that." — @Lavarbigballer pic.twitter.com/619VBSAxWz

— UNDISPUTED (@undisputed) February 7, 2019
He then criticized Magic Johnson, saying he had no decision making power, that in fact he was just the face of the organization and that Jeanie Buss was the one making the decisions.
"Magic, from my point of view now, listening to him talk, he's just a face. I don't think his say-so is like his say-so. … I'm trying to figure out who's in charge [of the Lakers]. The system is crumbling down." — @Lavarbigballer pic.twitter.com/F6P7iwAp95

— UNDISPUTED (@undisputed) February 7, 2019
Lonzo hasn't become the star he was expected to be. He is currently sidelined with a sprained ankle, but prior to that was averaging 9.9 points, 5.3 rebounds and 5.4 assists, obviously no where near the player LeBron James is.
But LaVar is back like he never left and if the Lakers are going to use Lonzo as trade bait, LaVar will do or say anything to get his son to a destination he wants, even if it means alienating multiple teams in the process.