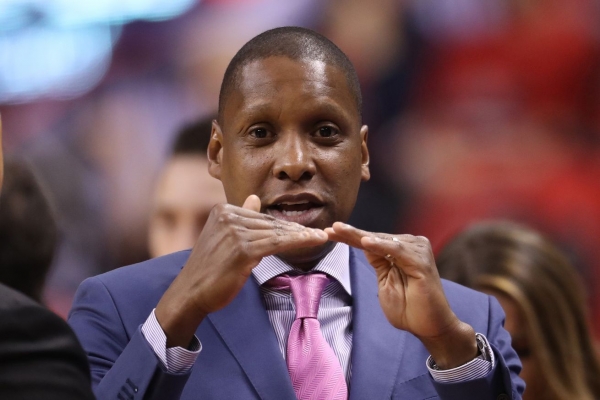 The Toronto Raptors already have Kawhi Leonard. Why not make it a double-feature and go for Jimmy Butler, too?
Don't think they haven't thought about it, because according to The New York Times' Marc Stein, they absolutely have. Here's what Stein wrote in his latest mailbag:
Q: Why haven't the Raptors been one of the teams making offers for Jimmy Butler? It seems like they should be a team pushing all in the chips in, since losing Kawhi Leonard in free agency next summer would necessitate a rebuild anyway. — Nolan Ragogna

STEIN: My sense is that the Raptors have indeed pondered making a run at Butler. And I gather that they are, on some levels, tempted.

But trading for another free-agent-to-be in Butler, after surrendering DeMar DeRozan, Jakob Poeltl and a first-round pick to get Leonard, would be a second significant gamble for Toronto in the space of four months.

Is that one dice roll too many? That appears to be Toronto's stance — especially in the midst of a promising 10-1 start that prompted LeBron James, in the wake of the Raptors' 121-107 victory over the Lakers, to declare Sunday night that, "They've been playing like they're the best team in the Eastern Conference so far."
Putting Butler on the Raptors is an interesting proposition. It'd increase the chances of them retaining a star in free agency. Even if they lose one, they could keep the other. Hell, they might re-sign both.
But sitting out these sweepstakes makes sense. If the Minnesota Timberwolves' asking price plummets to where they wouldn't require Pascal Siakam or OG Anunoby as part of a deal, then maybe the Raptors circle back. Otherwise, things are too good right now. And not the fake kind of good. The Raptors look like the best team in the East and a viable threat to the Golden State Warriors at full strength.
Plus, there's something to be said about having to potentially pay Kyle Lowry, Butler and Leonard. Assuming maxes for the latter two, the Raptors would have $98.7 million committed to all three players next season, setting them up for massive tax penalties after factoring in the rest of the roster. Still, Toronto has been aggressive under team president Masai Ujiri. If Minnesota gets to a point where it's willing to accept the Raptors' odds and ends—i.e. anyone who isn't OG, Lowry, Siakam or Leonard—then Canada's finest might be a suitor to monitor.