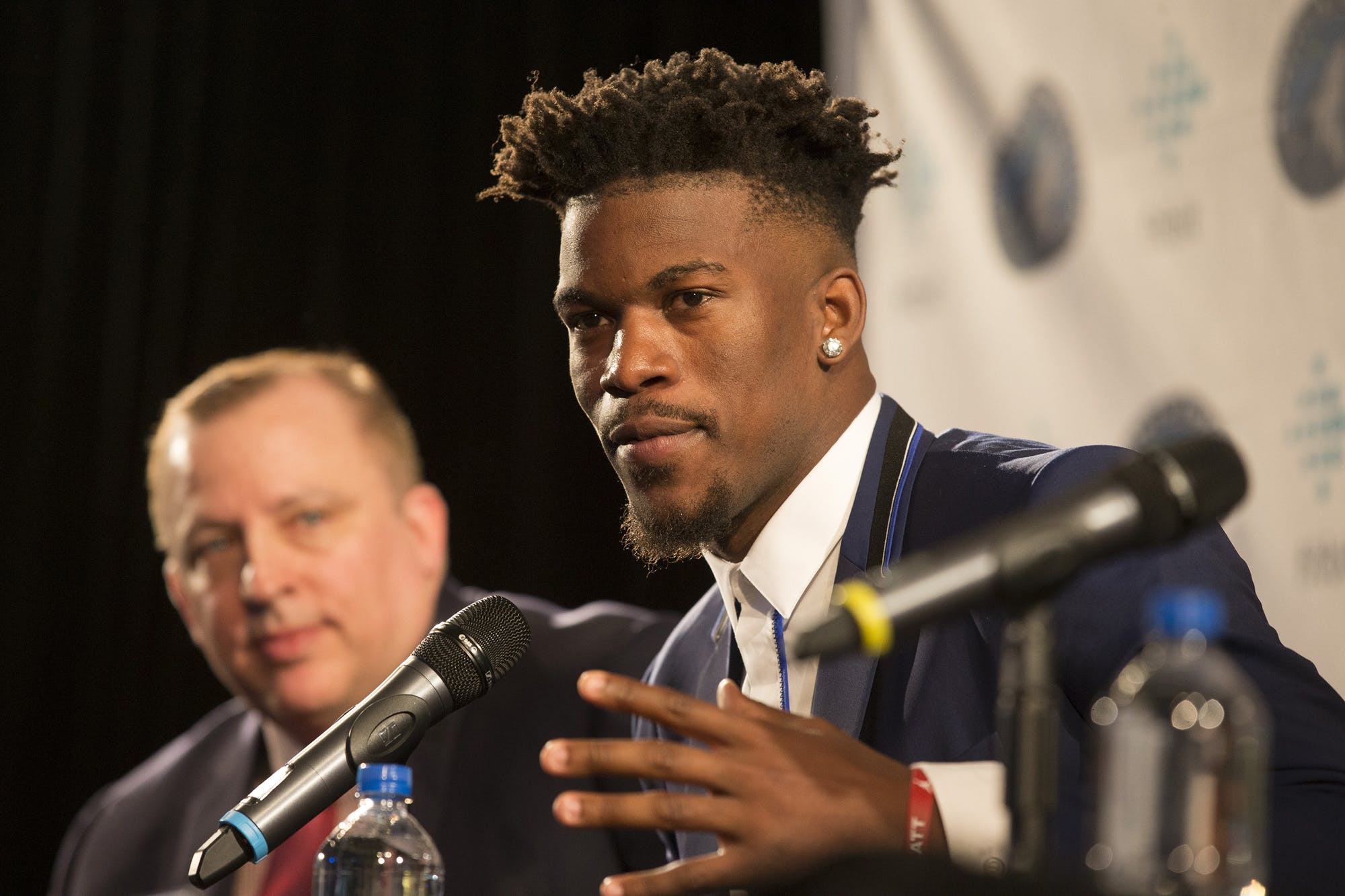 Despite numerous reports to the contrary, Minnesota Timberwolves coach-president Tom Thibodeau isn't buying into Jimmy Butler's purported unhappiness with the team's current situation and youngsters.
Speaking at the Minnesota State Fair, Thibs addressed a couple of the elephants in the room, including the looming prospect of a Karl-Anthony Towns extension. Here's what he had to say on the subject of Butler, per Jerry Zgoda of the Star Tribune:
Media reports throughout the summer have, using unnamed sources, suggested Butler is unhappy with his young teammates' will and dedication and has decided he won't play in Minnesota after this season and wants to unite with pal Kyrie Irving or other stars elsewhere.

"I've been around a long time; I don't buy into any of that stuff," Thibodeau said. "You have to distinguish what's real and what's not real. You never heard any of that come from Jimmy's mouth. It's always a source close to Jimmy. If Jimmy has something to say to someone, he usually says it directly …

"The biggest thing is chemistry on the floor and winning. How efficient they are tells you there's strong chemistry on the floor."
Thibs makes a fair case here, and it certainly didn't seem like Butler was too disgruntled with Towns specifically during his first go-round in Minnesota. And yet, even if the offseason reports have been overblown or outright false, the Timberwolves have a problem on their hands.
Butler has a player option for the 2019-20 season that he will decline. Minnesota cannot afford to lose him for nothing on the open market, as it absolutely risks doing if it doesn't improve upon last year's performance or establish itself as a viable threat in the ultra-brutal Western Conference. Come January, should Thibodeau not have a verbal commitment or airtight signal from Butler that he intends to return, the prudent move would be to shop him.
Does he have the stomach for that? Would he need an explicit demand from Butler before making him available? Will the Timberwolves be good enough to this into a non-issue? We'll need to wait and see.