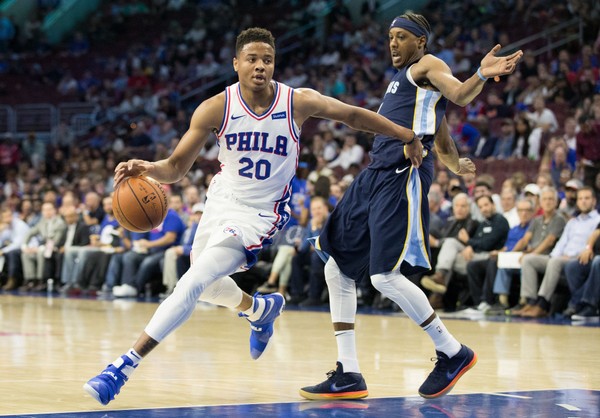 Markelle Fultz value has taken a steep dip since being drafted No. 1 by the 76ers just a year ago.
After a season in which he only appeared in 14 games and got the "yips" causing him to completely lose confidence in himself and his jump shot, he has somewhat become a forgotten piece in the 76ers bright future.
So much so that he was even offered up in trade packages on draft night.
Keith Pompey of the Philadelphia Inquirer:
The Sixers say they aren't shopping him. However, there was a report that they had internal discussions about packing him with Nos. 10 and 26 picks to move up into the Top 5 in Thursday's draft. And multiple league sources have said that Fultz was available to be traded.

But it's hard to get equal value in return for trading someone relearning how to shoot. The Sixers know that. They also know that if things do come together, Fultz will be a special player. He has the potential to become the type of player they would regret trading away.
The idea that the player they took No.1 just a year before was being shopped as part of a package to move anywhere in the top 5 of this year's draft is telling of where Fultz stands with the team, even if they are putting up a front of support and confidence of him being a part of their future.
It is interesting to ponder who they may have been targeting in the top 5, my guess would be Doncic, that would have created an insane play-making combo with Ben Simmons.
Fultz still could be dealt in a package for another star this summer, but more than likely the more realistic outcome and savvy move for the 76ers is to let him return for year two anyway and try to rehab his value in the chances that he becomes the player they envisioned or at the very least establishes his trade value more.