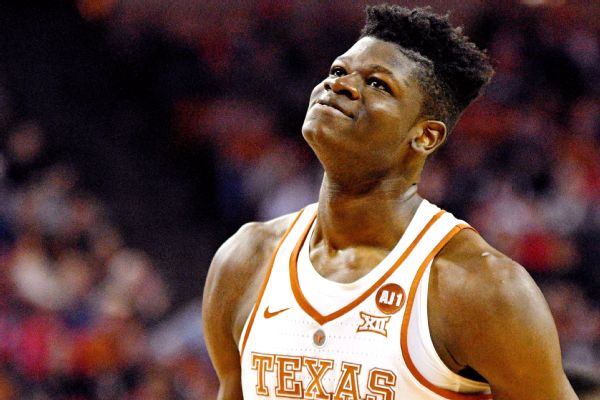 Shortly after the 2018 NBA draft begins on June 21, Texas' Mohamed Bamba will hear his named called and he'll officially be a professional baller in line for a multimillion-dollar contract. All the while, as he walks up to the stage to greet commissioner Adam Silver, he'll be thinking: "Why'd it have to take so long for me to get here?"
Yes, yes, yes. The 19-year-old will be thinking about other stuff, too. Heck, his year at Texas may not even be on his mind as he makes that trek into the future. But the point stands: He would have preferred going straight to the NBA rather than playing out a lone season in college.
As he said on a recent episode of ESPN's The Jump:
Top NBA draft prospect and former Texas freshman Mohamed Bamba said the opportunity to go straight from high school to the NBA would have been too good of a chance to pass up — had the means been in place — and that it would have "taken my game to the next level."

Bamba, who last month declared for June's draft and is a projected lottery pick, said Wednesday in an interview on ESPN's The Jump that his one year in college has no doubt been invaluable.

"But at the same time, I could have had a year of NBA development and had a year head start," Bamba said. "So, obviously, I would love to have that opportunity if it was there for me."
Round and round the debate on the one-and-done rule goes. Where will it stop? Nobody quite knows. But it sure seems like it will be abolished over the next few years. There's been too much talk to the contrary. Kentucky head coach John Calipari recently spoke out against it, and Silver has made this addressing rule, along with tanking, one of his primary missions since replacing David Stern.