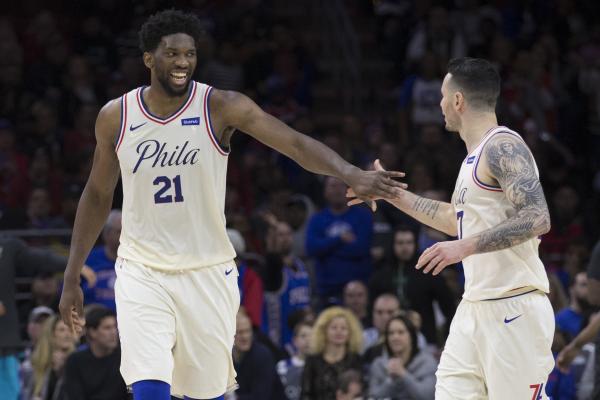 So this seems like a good time to panic—or to at least mentally prepare ourselves to panic.
Joel Embiid left during the second quarter of the Philadelphia 76ers' Wednesday night win over the New York Knicks after colliding with Markelle Fultz. He was diagnosed with a facial contusion and did not return, even though he wasn't deemed to have a concussion.
ESPN.com has some additional details:
While the 76ers initially said the All-Star center went through concussion protocol but did not have a concussion, they said after the game that he was taken to a hospital for additional testing.

Embiid posted an Instagram story that showed him in a hospital room and captioned it "Not good."

Preliminary X-rays revealed no fractures.

"I was scared," teammate Dario Saric said of his reaction to Embiid going down. "I hope he'll be good and he'll be ready."
You can count Sixers head coach Brett Brown among those who are not quite sure what Embiid's prognosis will be, per Philly Voice's Kyle Neubeck:
Brett Brown says he hasn't been given any more information beyond the facial contusion diagnosis for Embiid.

— Kyle Neubeck (@KyleNeubeck) March 29, 2018
Tomorrow is a travel day for the Sixers, so we may not get an update on Embiid's status until sometime Friday, before they take on the Atlanta Hawks. For what it's worth, the injury doesn't appear too serious, as Embiid was kinda, sorta clowning around from the hospital:
Embiid doesn't appear to be having a good time while stuck in a hospital bed pic.twitter.com/UNu6KVCysW

— Kyle Neubeck (@KyleNeubeck) March 29, 2018
The Sixers can afford to go on without Embiid for a little bit if he isn't ready to rock. Their numbers without him are scary bad for the season, according to NBA.com, but they've recently started to find more success when he's not on the floor. They're outscoring opponents by 13 points per 100 possessions since Feb. 1 whenever Ben Simmons and Robert Covington play without him, and Futz's return gives them an additional shot creator to help lighten the offensive burden.
The Sixers' schedule takes care of the rest. Their next four games come against lottery-bound squads, and they only have two playoff teams left on their slate overall. If Embiid needs to miss a few contests, they'll be fine. They only need to care if this injury somehow impacts him leading into the playoffs.