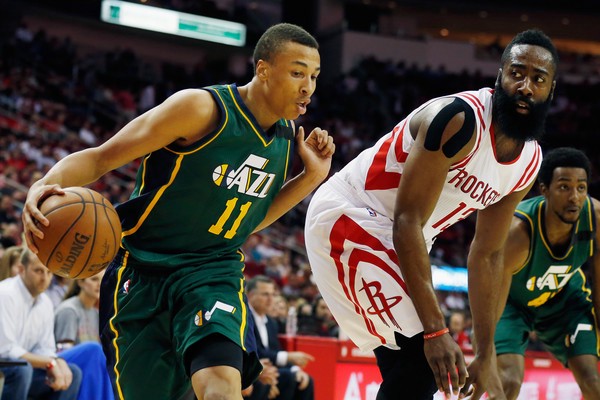 If the Utah Jazz wish to keep Dante Exum, it may cost them a fairly pretty penny.
The 22-year-old is just seven games into his return from what was initially deemed season-ending shoulder surgery, but he will become a restricted free agent in July. So while the Jazz don't have a huge sample size to work with—he's appeared in under 160 games through his first four seasons—they must decide how much they're willing to pay to continue his development.
This doesn't seem like a huge problem on the surface. Free agents are expected to get squeezed this summer as the market continues to correct itself following 2016's spending binge. Few teams have a ton of cap space. The ones that do won't be looking to blow it on high-risk dice rolls.
But Exum still incites intrigue around the league. He hasn't yet showcased a consistent jumper, but he's long and super active on the defensive end, and he's shown flashes of brilliance as a dribble driver. At least one NBA executive, in fact, thinks he could be worth $10 million per year in the short term, per Sporting News' Sean Deveney:
There will be about 10 teams with a decent amount of cap space this summer, a handful of which are deep in rebuilding situations and eager to grab young talent. That includes an oft-injured former No. 5 pick in restricted free agency. Indiana, Phoenix, Dallas, Chicago, Orlando — these teams all need backcourt help and might be willing to take a chance on a guy like Exum. It's speculation, but it only takes one team willing to make an offer.

Of course, that offer would have to be at least two years under NBA restricted free agency rules, unless the Jazz decided to let him go (which is unlikely). One front-office executive estimated that Exum could warrant a two-year deal in the range of $18-20 million (with an option for a third likely) to get him away from the Jazz, who would have two days to decide whether to match.

"He's a gamble," the front-office executive said. "But $10 million a year is not as big a gamble as it once was. He could show something here."
So much about Exum's free agency will be tied to how he closes the season. But even if he solicits quasi-lucrative short-term offers, the Jazz won't be easily scared off. They have the financial malleability to float an above-market deal for the next two years. They're slated to shed a ton of money next year, when Alec Burks and others come off the books, and a two-year overpay for Exum still wouldn't take them into Donovan Mitchell's extension.
That doesn't mean they should just be matching any offer that comes Exum's way. But the odds of him landing a back-breaking three- or four-year deal are almost nonexistent. Utah should have a relatively reasonable path to extending his stay beyond this season.