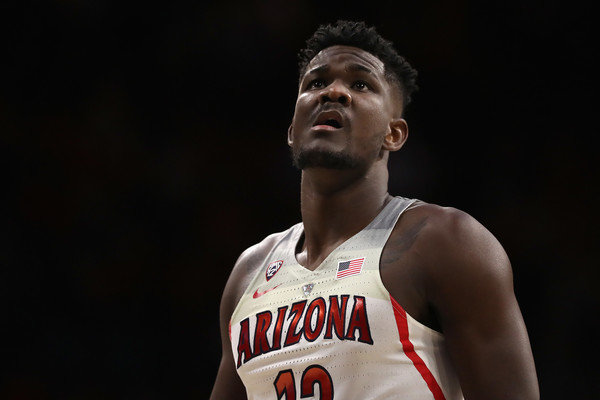 DeAndre Ayton's collegiate basketball career is officially over.
Sometimes, after a top NBA prospect's NCAA season has concluded, he waits a little while before declaring for the draft. And during that time, people speculate about whether he might return to school for one last go-round. It's a meaningless debate, make no mistake. Those billed as top picks in the one-and-done era are just that—one-and-done.
Ayton is no different, except for the fact he decided not to leave anyone hanging in the wind.
Almost immediately after Arizona fell to Buffalo in the first round of the NCAA Tourney on Thursday, the 7'1″ big made his intentions clear, per the Charlotte Observer's Rick Bonnell:
Not that there was any doubt, but Ayton said he's definitely in the NBA draft in June.

— Rick Bonnell (@rick_bonnell) March 16, 2018
Ayton leaves Arizona after having an absolutely monster season, through which he averaged 24.3 points, 13.8 rebounds and 2.3 blocks per 40 minutes while shooting better than 61 percent from the floor and over 36 percent from beyond the arc, according to Sports-Reference. Most mock drafts have him going No. 1 overall to whichever team wins the lottery.
That being said, Ayton isn't the surest of things. People have questions about his defense. He's not particularly good at playing the passing lanes, and his block rate at Arizona was unimpressive for someone with his physical profile. And while he's being advertised as the NBA's next unicorn, his three-point accuracy comes on barely one attempt per 40 minutes. That's not volume worth putting blind faith in.
Of course, Ayton is also just 19 years old. He's mobile and explosive, so both his defense in space and around the rim, along with his outside shot, should improve with time. Whether that means he's worth passing on Marvin Bagley and Luka Doncic is still up for debate. And it will remain up for debate. The outcome at No. 1 this year likely depends on which team owns the selection. Still, at the very least, Ayton projects as a surefire top-three pick—and detonative talent who will keep eyes glued to whatever team he's playing for as he tries living up to the current hype.