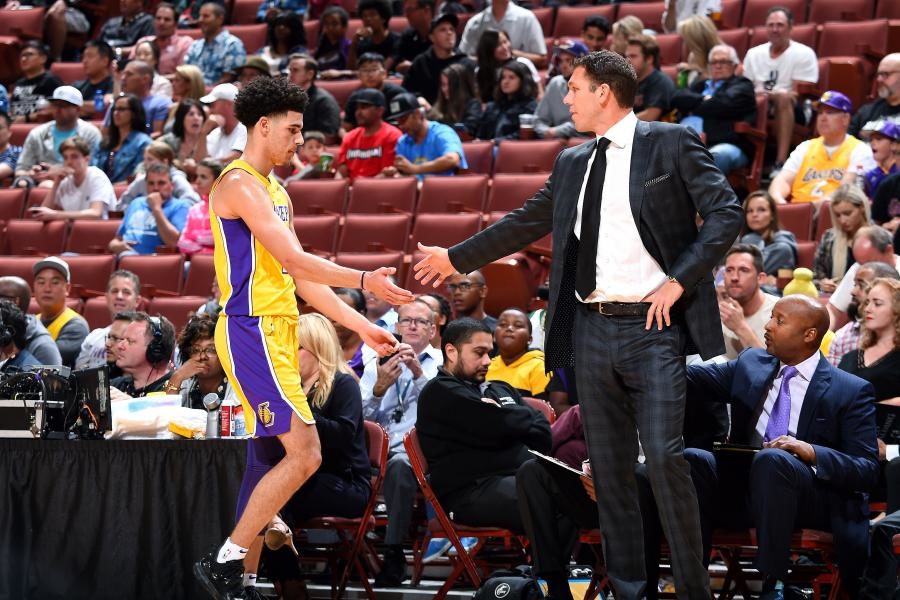 The Los Angeles Lakers would like LaVar Ball, father of rookie Lonzo Ball, to take it easy on head coach Luke Walton.
And that, as of now, is an official statement.
According to ESPN.com's Ramona Shelburne, Lakers president Magic Johnson and general manager Rob Pelinka recently sat down with LaVar in hopes of convincing him to ease up on the public denigration of Walton. Here's more, courtesy of Shelburne:
LaVar Ball confirmed the meeting took place, telling ESPN, "It was the best thing, man. Everybody's going to try to make it an ego thing, like I'm trying to tell them what to do or they're trying to tell me to tone it down. It's not about that. It's about coming together and to get a solution to this problem.

It may sound crazy to other people, but I really just want the best for Lonzo, and the best for Lonzo is going to be what's best for the organization. Because if everybody winning, we good."

Johnson and Pelinka declined to comment when asked about the meeting. A Lakers insider said the main message to Ball was that they've tried to keep their relationship positive, while still allowing him to speak his mind, and they'd prefer he did the same.

Ball said he agreed with that characterization, for the most part, and that he told Johnson and Pelinka he understood their position and would try to abide by that request.
Well, look at this: We're not even halfway through the NBA's 2017-18 season and the Lakers are already calling Ball to the principal's office.
In fairness to the Lakers, though this sit-down seems ridiculous, they're not without just motives. LaVar, if you'll remember, came right out and said their coaching staff doesn't know how to handle his son. Whether he was calling them incompetent or soft doesn't matter. The Lakers don't need that press. Hell, Lonzo himself doesn't need that press.
Look hard enough, and you can almost appreciate LaVar's intentions. He's invested in his son's success. And far be it from us to question whether he's in it for selfish reasons. That doesn't matter either. He's around, and Lonzo seems to genuinely appreciate him. But LaVar isn't doing the Lakers or Lonzo any favors by questioning the mettle of Walton—who, in many respects, is just as much of a building block for the organization as the first-year point guard.