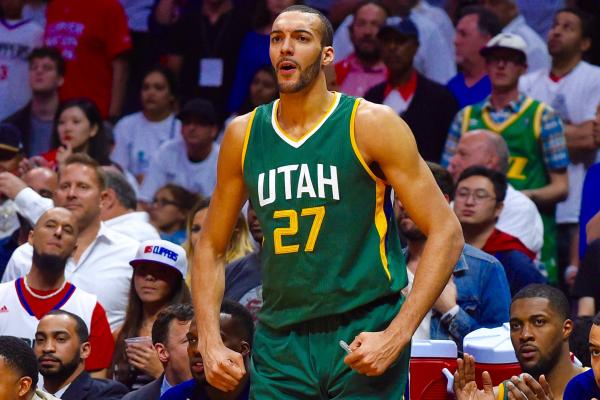 Was Rudy Gobert a top-10 player in the NBA last season?
The Utah Jazz sure think so.
As general manager Dennis Lindsey said, per Andy Blarsen of KSL.com:
Dennis Lindsey: "We had Rudy Gobert as the 9th best player in the league."

— Andy Larsen (@andyblarsen) July 6, 2017
This is…quite the proclamation. In some ways, it's a defense mechanism. The Jazz just lost Gordon Hayward, who many consider their best player. It's only natural they would spin his departure as "Well, at least we still have a top-10 player on our team" situation.
To be clear: Gobert isn't a top-10 player. He is the NBA's best defensive center and rates about as highly as you can in the league when you're not a big man who shoots threes. He swallows shots at the rim, switches pick-and-rolls with relative ease, delivers devastating finishes out of the pick-and-roll, has improved as a passer and is a viable building block.
Most advanced metrics love him. Gobert added the 12th-most individual value to his team's cause last season, according to NBA Math. He also placed second in total win shares, eighth in value over replacement, 13th in box-plus minus and 18th in player efficiency rating. He is the real deal.
A top-10 talent, though? In today's NBA? When James Harden, Kevin Durant, Russell Westbrook, LeBron James, Giannis Antetokounmpo, Jimmy Butler, Stephen Curry, Kawhi Leonard, Draymond Green, Nikola Jokic, Kyle Lowry, John Wall, Blake Griffin, DeMarcus Cousins and Anthony Davis, among others, all exist?
Yeah, not so much.
It does, however, say a lot that this is closer than most think. Over the course of a single season, when factoring in durability and minutes played, Gobert does have the talent to be looped into that conversation. The Jazz, as Lindsey was pointing out more than anything, are lucky to still have him.