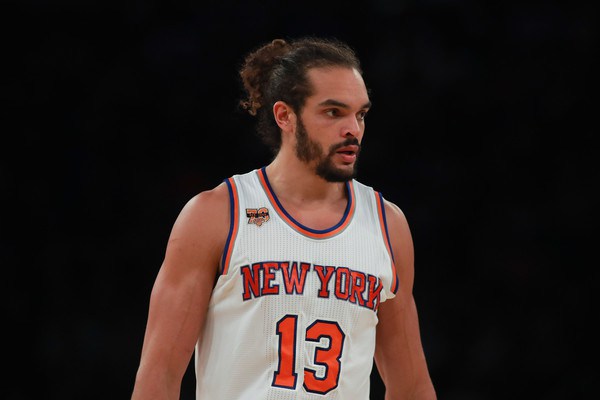 So, um, it's going to be a while before Joakim Noah takes the court again for the New York Knicks.
The center, whom the Knicks signed to a four-year, $72.6 million deal last summer, has missed most of this season with injuries. Though he's technically tending to an injury now, the Knicks scrapped to get him medical clearance so that he could begin serving a 20-game suspension for using an over-the-counter substance that was banned by the NBA in the previous collective bargaining agreement. He will have knocked eight games off the penalty by season's end.
But according to The Vertical's Adrian Wojnarowski, Noah now needs to have surgery on a torn rotator cuff and will miss the next four to six months:
As his $72 million free-agent contract becomes a bigger source of embarrassment for the organization, New York Knicks center Joakim Noah will undergo surgery for a left torn rotator cuff, league sources told The Vertical.

Noah will need four to six months to rehabilitate the shoulder, sources said, an injury that comes in the aftermath of a 20-game NBA suspension for a banned supplement.

Noah, 32, has had trouble for years with his shoulder, and it necessitated surgery. He underwent arthroscopic knee surgery in January, and the league allowed the Knicks to start his suspension over the final eight games of the regular season.
If you didn't already think Noah's contract was the worst in the NBA, you better damn well have gotten there by now.
Six months would put Noah back sometime in December. And then he would have to serve the remaining 12 games of his suspension after that. And then, upon returning, you have to wait for him to work through roughly 11 months of rust.
Sure, the Knicks will probably get him cleared as soon as possible so he can begin serving the remainder of his suspension without actually returning. But that doesn't make this situation any more justifiable.
The silver lining here is the Knicks don't really need Noah. They should be rebuilding, and he only takes away minutes from Willy Hernangomez and Kristaps Porzingis, both of whom are more important to the team's on-court future than he will ever be.
And yet, when you look at it that way, the silver lining devolves into a dark cloud that reinforces why the Knicks never should have signed Noah, who for his part is a very hard worker, in the first place.