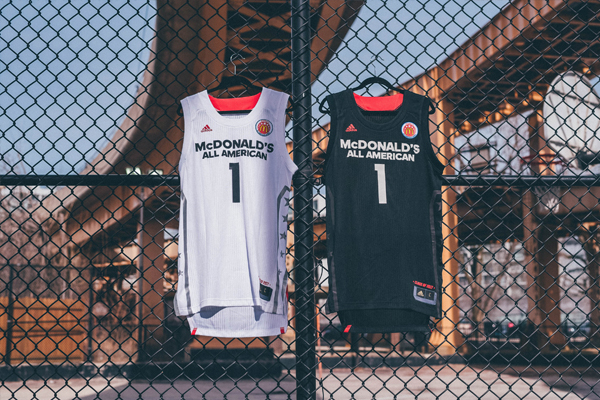 Today, the McDonald's All American Games is unveiling this year's 2017 adidas uniform collection. The collection pairs the latest uniform innovations with design elements that speak to the rich history of the Games and celebrate Chicago.
To add an element of personalization, the 2017 adidas uniforms will incorporate the various sports cities and states where each athlete hails from. Specifically, the back of each jersey's neck sports the outline of each player's home state while the front of the jersey reads "Class of 2017" above the jock tag.
Players will also lace-up the latest adidas basketball footwear in two pinnacle styles, Harden Vol. 1 and Crazy Explosive Primeknit. The custom edition Harden Vol. 1 has laser-etched stars on the leather toe and the Crazy Explosive Primeknit shoe has pinstripes on the bootie. Each shoe has the best of adidas footwear innovations, including a red full-knit upper, full-length BOOST mid-soles and a metallic gold glossy finish on the three stripes while the McDonald's All American Games logo is featured on the tongue.
The 40th Anniversary of McDonald's All American Games will take place on Wednesday, March 29. For more information about the McDonald's All American Games, POWERADE® Jam Fest or game week activities check out www.mcdaag.com or follow @McDAAG on Twitter and Instagram.