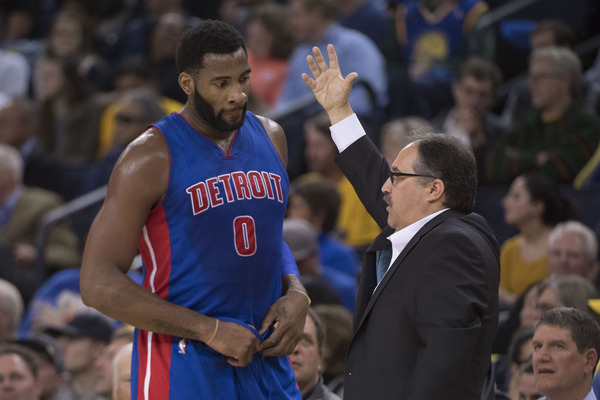 For the first time in his NBA career, Andre Drummond finds himself immersed in trade rumors.
None of which will ever materialize into anything real.
This, at least, is the stance Detroit Pistons head coach and president Stan Van Gundy assumed, per Pistons.com's Keith Langlois:
But Van Gundy dispelled any notion that Drummond was being shopped or is on the verge of being dealt. General manager Jeff Bower has brought nothing to him regarding a serious Drummond trade proposal.

"Jeff talks to virtually every team in the league all the time. As I've said before, every name on our roster has come up. That's his job. That's what we're supposed to be doing. There hasn't been a serious discussion about Andre, but that doesn't mean there haven't been discussions about Andre. The concern, I guess, would be from Andre's standpoint if nobody had any interest in him."
The latest comments are in response to a report from ESPN.com's Marc Stein that claims the Pistons are increasingly willing to talk shop on Drummond:
Hearing more and more teams say today they believe Detroit will NOT discourage trade inquiries for center Andre Drummond this week.

— Marc Stein (@ESPNSteinLine) February 21, 2017
Truth told, Drummond would be tough to move even if the Pistons wanted him gone. He's in the first season of a five-year, $127.2 million deal, and the market for bigs, as the DeMarcus Cousins trade kind of proved, is weird.
Drummond is still only 23 and won't be a flight risk until 2020 (player option), so there's that. But he hasn't developed an offensive game beyond his pick-and-roll devastation, and it's not unfair to call his defense overrated. Though there will be plenty of teams ready to pull the trigger on any deal, Detroit won't be fielding offers built around too many impact players, picks, prospects and cap relief—exponentially increasing the chances that Drummond stays put.
Assuming, of course, he was ever available to begin with.