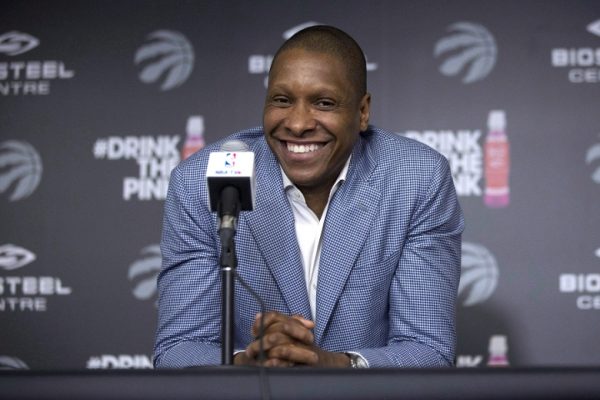 People rarely mention the NBA's upcoming trade deadline without also talking about the Toronto Raptors. And that seems to make sense.
After all, the Raptors are second in the Eastern Conference. They have a void at power forward. They have a bunch of interesting assets, from first-round picks, to intriguing prospects (Norman Powell, Lucas Nogueira), to awesome contracts (Patrick Patterson, Terrence Ross, Cory Joseph, Jonas Valanciunas).
Most of all, the Raptors' window to win is now open. Kyle Lowry is on the wrong side of 30 and has never been better, while DeMar DeRozan is firmly in his offensive prime.
Still, general manager Masai Ujiri, ever the tactician, won't make a move for the sake of making a move—or even acquiring a big name.
From Sportsnet:
"We find ourselves in a special place, which is second in the East," Ujiri said. "There is a window with Kyle Lowry, DeMar [DeRozan] and DeMarre [Carroll] with those kind of guys in their prime and we will take advantage. But we're not making bad deals. It doesn't help business, it doesn't help your future. Trust me, if a deal is not made just know there was nothing on the table for us that would really enhance our team."
This tracks really well. The Raptors have no doubt had a chance to upgrade the power forward position in each of the last two seasons, but they elected to stand mostly pat instead. That's no accident.
For all this talk about the urgency to win, Ujiri is smart enough to know the gap between the Raptors and Cleveland Cavaliers is enormous. Consolidating assets into a big name, like Paul Millsap, doesn't necessarily erase that chasm. You need to get an impact player without making too many concessions. It's tough to do, and the Raptors may be unable to find that perfect deal. And their situation is more tenable than usual, because they don't have the luxury of impending cap space to bail them out in free agency if they don't make a midseason splash.
All this only means Ujiri is probably more open to making a deal than ever. Or more active in finding his ideal transaction. It doesn't mean the Raptors will swing for the fences, though. Because in all likelihood, knowing how Ujiri's operated in the past, they probably won't.