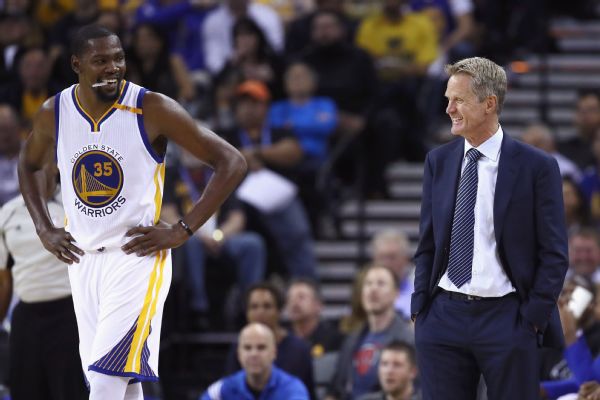 On Thursday night, with the Golden State Warriors up big, Kevin Durant was pulled from the game by head coach Steve Kerr having scored just 18 points.
And just like that, Durant's streak of consecutive 20-point outings was over.
It had been 72 games since Durant last failed to clear this 20-point plateau, tying him with Michael Jordan for the fourth-longest such streak in NBA history. And now it's over. Durant was one bucket away, but now it's over.
Why did Kerr pull him so close to the 20-point benchmark, knowing it would kill his streak where it stands?
The basketball gods made him to do it.
Per Anthony Slater of the Bay Area News Group:
Steve Kerr on taking Kevin Durant out with 18 points, ending his 20-point streak: "I'm not gonna mess with the basketball gods" pic.twitter.com/cx1mg8R3Sw

— Anthony Slater (@anthonyVslater) November 11, 2016
This might seem like arbitrary reasoning, but Kerr isn't wrong. The Warriors know all too well how one misstep (Stephen Curry's ankle) or decision (Draymond Green's temper) can impact their entire dynamic. Surviving another night without Durant suffering a freak injury, however unlikely it is, remains far more important than letting him continue what is, in the grand scheme of things, a meaningless steak.
Plus, Durant's run was going to end at some point. This is, in a way, a reality check for him. He isn't on the Oklahoma City Thunder anymore. He's playing with three other All-NBA players. He won't be topping 20 points every single game. This is a good way to acclimate him to that type of dynamic—a pleasant way.
The Warriors won, and assuming that Kerr consulted him about this decision, it came on his own terms.