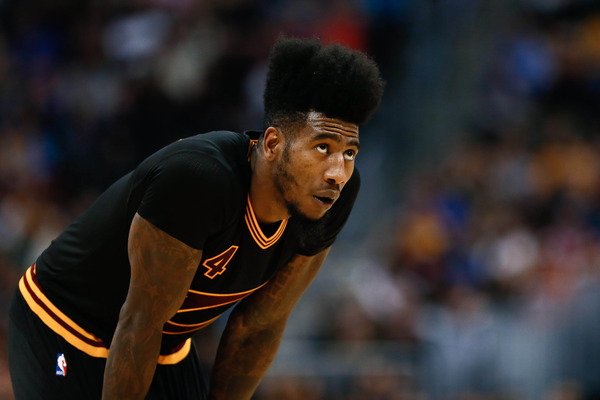 Iman Shumpert is not untouchable to the Cleveland Cavaliers, but they are not desperately trying to get rid of him, either.
You could say that about, maybe, half the players in the league. But ESPN.com's Zach Lowe reported that a few teams have inquired about Shumpert's availability and left with the "impression" that the Cavaliers will move him in the right deal. Naturally, there are those who interpreted this to mean that Cleveland is desperate to get rid him.
Joe Vardon of Cleveland.com set the record straight for those who were confused:
It is true, a few teams such as the Minnesota Timberwolves have inquired about Iman Shumpert, who has three years and $30 million left on his contract at age 26. The Cavs are answering the phone, as ESPN's Zach Lowe reported. But they are not actively looking to deal him, a team source told cleveland.com.

Shumpert only gets traded for a player who improves the Cavs. They need a backup point guard. Rubio earns about $13.5 million. Does he make the Cavs better at Shumpert's expense?

Keep in mind, Cleveland also has a trade exception worth about $11 million, the expiring contract of Mo Williams ($2.2 million) and Jordan McRae to deal. So if it is Rubio they want, they don't have to trade Shumpert to get him.
Vardon seems to be drastically undervaluing Ricky Rubio here. He is, at the very least, a top-15 player at his position. You cannot say that about Shumpert, so there's no way the Timberwolves swap him straight up for Shumpert, let alone a trade exception.
It does make sense for the Cavaliers to listen to any offers they might encounter. They don't have a true or proven backup point guard coming off the bench behind Kyrie Irving and LeBron James, and the three years and $31 million remaining on Shumpert's deal will be valuable to some team that understands the market for mid- and low-level wings in the new salary-cap climate.
Shumpert's three-point percentage has been in the toilet since 2013-14, and he has an extensive injury history. But he plays hard on defense and, when given consistent playing time alongside talented playmakers, should be able to knock down wide-open looks from the outside eventually.
Singling out a team with a need for him that also can and is willing to send back someone of value to the Cavaliers is tough. Still, with Mike Dunleavy, J.R. Smith and Richard Jefferson on the roster, along with a luxury-tax bill that breaks the bank, Cleveland does have an incentive to make Shumpert available.