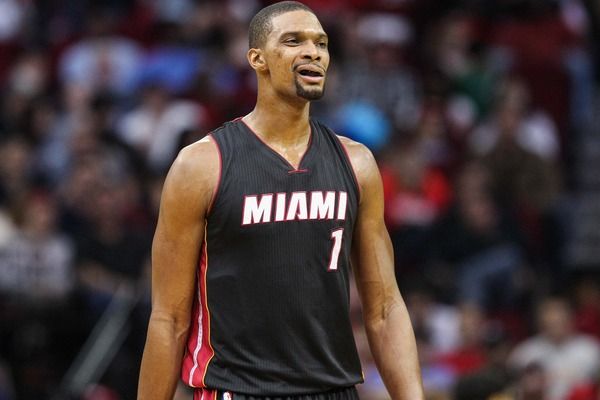 Sound the Chris Bosh update alarm.
A source told the Miami Herald's Barry Jackson that there's a strong chance Bosh gets cleared for an imminent return to the Miami Heat:
There is growing optimism about Chris Bosh being cleared by the Heat to resume his career while remaining on blood thinners, according to a union source.

Bosh pitched the Heat on playing late last season, while taking a new form of blood thinner that would be out of his system in eight hours or so. The Heat resisted that approach at that time but is now more open than it had been to Bosh playing while on blood thinners, according to the source.

. . .

Whether Bosh would be able to play in every game, such as the second set of back-to-backs, remains to be seen.

But barring a setback in the next few weeks, it would be surprising if Bosh isn't cleared to play.
And so continues the seesaw that is Bosh's status with the Heat.
The rumor mill has been flooded with various reports over the last few months, some of them classifying Bosh's return as imminent, if not inevitable, while others have painted a bleak picture of relations between him and the Miami organization. It's unlikely that the hedging is over, just because this latest batch of optimism exists. Bosh has missed the latter part of the last two seasons because of blood clot issues, and the Heat have shown no inclination to rush him back.
Still, if there's a way for Bosh to get back on the court, without risking further harm, even if it entails a specialized rest-and-relaxation program, the Heat can use him. They lost Luol Deng, Joe Johnson and Dwyane Wade to free agency, and Josh Richardson's knee injury means that Dion Waiters will be their primary shooting guard. Miami's starting lineup looks a lot better now if it's headlined by Bosh, Goran Dragic, Hassan Whiteside and Justise Winslow.
Of course, we still have a few weeks before training camps open, and the regular season is still more than a month and a half away. A lot can happen between now and then, and if there's one thing we've learned while following Bosh's attempted recovery, it's that reports can change quickly.
Nevertheless, if the Heat's goal is to compete now, this comes as encouraging news.