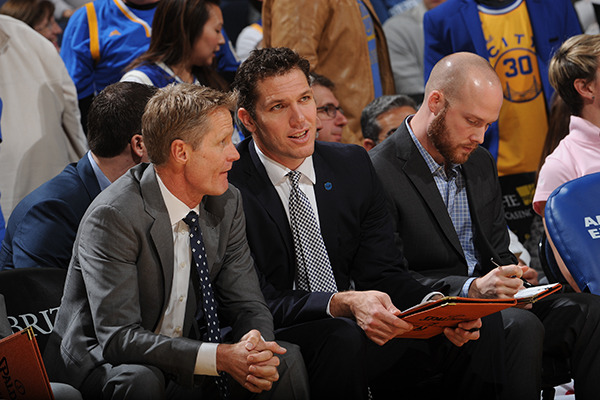 If Golden State Warriors assistant coach Luke Walton has his way, his boss, Steve Kerr, will win the NBA's Coach of the Year award.
Related: He might get his way.
Per The Vertical's Michael Lee:
Luke Walton on which GSW coach should win COY: "I didn't know I was on the list but Steve Kerr should 100% be coach of the year." #warriors

— Michael Lee (@MrMichaelLee) April 13, 2016
Kerr was credited with all of "Walton's wins" during the time he spent recovering from complications that arose as the result back surgery. It would be cool to see the NBA recognize both should Kerr get Coach of the Year honors. And really, even if the league doesn't formerly offer something to Walton, the Coach of the Year award is really a collective honor. No one man is responsible for guiding an entire team, and grabbing the distinction validates not only Kerr, but everyone he has around him.
To simply disqualify the Warriors' staff from consideration because of the split-duty would be patently absurd. Even if we're trying to look at this award through the scope of an individual, in this case Kerr, he was not completely absent from Golden State's process during his time "away." He was at practices and some games. He was in constant contact with Walton.
Most importantly, the Warriors don't get to where they are now, or where they were "without him," if he doesn't lay down a culture that transcends his presence. It's a tough thing to do, to forge the type of continuity that can exist without actual continuity, but Kerr has done it.
That alone makes him worthy of being crowned Coach of the Year. There are ton of other viable candidates, from Brad Stevens in Boston, to Terry Stotts in Portland, to Steve Clifford in Charlotte, to Gregg Popovich in San Antonio. Even Dwane Casey should receive some dap for the work he's done with Toronto.
But Steve Kerr, absences and all, deserves consideration just as much as the next favorite.