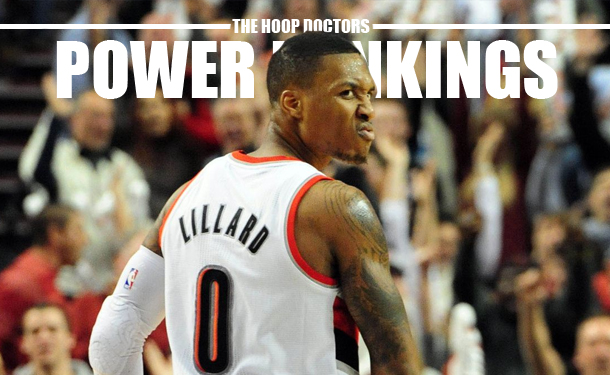 Is the NBA getting predictable?
That's a question we're left to ask ourselves after blazing through this addition of the NBA power rankings.
There are some surprises, sure. But, for the most part, movement is stifled. The top one-third of the league remains pretty stationary, while the five to seven bottom-most feeders are jostling for position only among themselves.
Most of the changes come in the middle, where a handful of mediocre teams are championing welcomed chaos. The Indiana Pacers, Detroit Pistons, Atlanta Hawks, Utah Jazz, Dallas Mavericks, Charlotte Hornets and Memphis Grizzlies are exchanging barbs, and it makes for a highly interesting, incredibly clunky cadre of middling factions.
Oh, and the Portland Trail Blazers. They're pretty good.
Yes, the Golden State Warriors are still making a mockery of opponents. And sure, the San Antonio Spurs are quietly historical. But the Blazers, preordained one of those bottom-feeders, are legitimate and, against all offseason logic, are going to make for a tough first-round out, irrespective of who they're playing.
Let's power rank.
***For a week by week list of all our NBA Power Rankings this season, please visit this page.
NBA Power Rankings
| | |
| --- | --- |
| 1 | |

Golden State Warriors

I'm just about ready to leave the Warriors atop the power rankings for the next half-decade. What say you?

Last Week (1)

| | |
| --- | --- |
| 2 | |

San Antonio Spurs

Um, it seems like people are forgetting about the Spurs again. And, you know, don't do that.

Last Week (2)

| | |
| --- | --- |
| 3 | |

Cleveland Cavaliers

Has there ever been a more tightly wound and inconsistent title contender than this year's Cavaliers?

Last Week (3)

| | |
| --- | --- |
| 4 | |

Oklahoma City Thunder

For those keeping score at home, the Thunder have played valiantly against the Warriors twice only to have their dreams crushed.

| | |
| --- | --- |
| 5 | |

Toronto Raptors

A win over the Cavaliers was the Raptors' here-we-are victory. Not they needed it. Everyone who's anyone knew long before then this team was dangerous.

Last Week (5)

| | |
| --- | --- |
| 6 | |

Los Angeles Clippers

Blake Griffin should return to the lineup shortly, as within the next few weeks. We're going to assume the Clippers will be better off until otherwise shown.

Last Week (5)

| | |
| --- | --- |
| 7 | |

Boston Celtics

Brad Stevens could coax victories out of a team comprised only of traffic cones.

Last Week (7)

| | |
| --- | --- |
| 8 | |

Portland Trail Blazers

Nothing the Blazers are doing makes sense, and yet it makes perfect sense, all at the same time. The offense is humming and surprisingly spacey, Damian Lillard is a legit leader, C.J. McCollum is a phenomenal shot-creator, the defense has started to lock down, and Terry Stotts deserves serious Coach of the Year dap.

Last Week (8)

| | |
| --- | --- |
| 9 | |

Miami Heat

All the Heat need to do now is sign Kevin Martin and Ty Lawson and they'll be able to field a lineup consisting of mostly buyout acquisitions.

Last Week (9)

| | |
| --- | --- |
| 10 | |

Dallas Mavericks

Chandler Parsons' career-best stretch has the Mavericks chasing down another top-five playoff berth. And if they get it, a Clippers-Mavs series has the potential to be hella fun.

Last Week (14)

| | |
| --- | --- |
| 11 | |

Charlotte Hornets

Just. Keep. Shooting.

Last Week (10)

| | |
| --- | --- |
| 12 | |

Atlanta Hawks

Al Horford and Paul Millsap are gods, but the Hawks are still, somehow, inconsistent as hell.

Last Week (12)

| | |
| --- | --- |
| 13 | |

Detroit Pistons

Tobias Harris has regained last season's three-point form, and the Pistons are heating up. Coincidence?

Last Week (15)

| | |
| --- | --- |
| 14 | |

Indiana Pacers

To-do list for the Pacers this offseason: Assemble a bench that can score.

Last Week (11)

| | |
| --- | --- |
| 15 | |

Memphis Grizzlies

On some level, I fully expect the Mavs to overtake the Grizzlies for the West's No. 5 seed. On another level, I'm gearing up for the Grizzlies' first-round upset of the Clippers.

Last Week (19)

| | |
| --- | --- |
| 16 | |

Washington Wizards

If the Wizards don't make the playoffs, we can essentially cross another potential Kevin Durant suitor off the list of likely destinations. That's good news for OKC and Golden State fans.

Last Week (16)

| | |
| --- | --- |
| 17 | |

Utah Jazz

Aaaaaaand the Team Most Likely to Self-Destruct Even When the Going Is Super Good award goes to the Utah Jazz.

| | |
| --- | --- |
| 18 | |

Houston Rockets

The Rockets really need a point guard/point forward who could play off James Harden. If they can figure out how to open two max slots this summer, expect Al Horford-Kevin Durant rumors to gain traction.

Last Week (18)

| | |
| --- | --- |
| 19 | |

Milwaukee Bucks

Hip hip hooray! The Bucks are fun again! Hip hip hooray!

Last Week (20)

| | |
| --- | --- |
| 20 | |

New Orleans Pelicans

The Anthony Davis-Ryan Anderson combination will be missed next season, and the season after that, and in any season the Pelicans aren't Western Conference mush.

Last Week (23)

| | |
| --- | --- |
| 21 | |

Chicago Bulls

It's panic button time.

AKA: It's rush Jimmy Butler back from his knee injury time.

Last Week (17)

| | |
| --- | --- |
| 22 | |

Orlando Magic

Okay, I'm here: The Magic need to craft some blockbuster offers around Nikola Vucevic this summer and move forward with Aaron Gordon as their center.

Last Week (21)

| | |
| --- | --- |
| 23 | |

Sacramento Kings

Fast and furious and futile: The 2015-16 Sacramento Kings.

Last Week (22)

| | |
| --- | --- |
| 24 | |

Denver Nuggets

Losing Danilo Gallinari, who was playing like a borderline All-Stars, sucks. The good news is Will Barton's field-goal attempts are going to skyrocket.

Last Week (24)

| | |
| --- | --- |
| 25 | |

Minnesota Timberwolves

Tyus Jones sightings are fun.

Last Week (25)

| | |
| --- | --- |
| 26 | |

New York Knicks

Well, look at that. The Knicks have actually NBA talent on the roster and are still a dumpster fire. Go figure.

Last Week (26)

| | |
| --- | --- |
| 27 | |

Los Angeles Lakers

D'Angelo Russell out here exploding for 39 points against the Brooklyn Nets as if he's a good prospect and has unfairly spent a large chunk of this season in Byron Scott's doghouse. Or something.

Last Week (28)

| | |
| --- | --- |
| 28 | |

Brooklyn Nets

Already missing Joe Johnson.

Last Week (27)

| | |
| --- | --- |
| 29 | |

Philadelphia 76ers

It's quite frankly amazing, and harrowing, how much better the Sixers look when Jahlil Okafor doesn't play.

Last Week (29)

| | |
| --- | --- |
| 30 | |

Phoenix Suns

Phoenix has to do something with this Tyson Chandler-Alex Len frontcourt pairing. Taking a stick of dynamite to it is preferable.

Last Week (30)