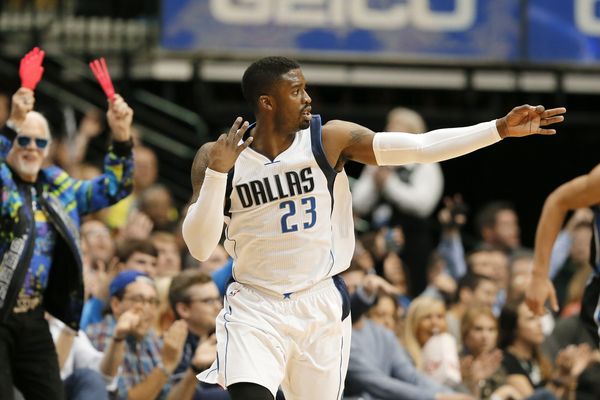 This side of an Achilles injury, Wesley Matthews' four-year, $70 million deal with the Dallas Mavericks doesn't look great.
It doesn't look horrible, to be sure. He is moving well on defense, still covering the toughest perimeter assignments. His three-point percentage has dipped, but he's still hovering around 35 percent efficiency. And, most importantly, one year of his deal is already in the books. He will be owed $53.7 million over the next three seasons, and he owns a player option for the final year, one he may decline if he's looking for another long-term payday before the tail end of his career.
Beyond that, the NBA's salary cap is exploding. And we live in a world where Nicolas Batum and the Dallas Mavericks' own Chandler Parsons (player option) could command max money on the open market, just because there will be more money than talent floating around. Matthews contract won't look so bad when either of those guys nabs $20-plus million per year.
Hence the interest outside teams had in trading for Wesley Matthews at the trade deadline, according to Mavs owner Mark Cuban. Here's what he said, per ESPN.com's Tim MacMahon (h/t CBS Sports):
Asked if he's concerned about the long-term value of Wesley Matthews' contract, Mark Cuban said: "Not at all. We got a lot of interest in him before the deadline, not that we were looking to trade him."
Again, this isn't a shock. Matthews won't be a steal on his current deal moving forward, but it's certainly a justifiable contract given the early returns on his recovery from last season's Achilles injury.
There's a pretty good chance he'll decline that player option in the fourth and final year of his deal. He'll be 31 going on 32 entering that 2018 offseason and looking to capitalize on the elevated salary cap one last time. It's expected to decrease at some point, and rather than wait until he's 32 going on 33 to broker his last lucrative long-term pact, he might as well do so a year in advance, when he'll presumably hold the highest market value.