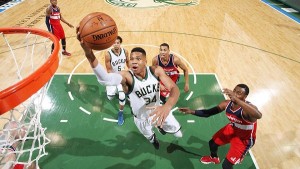 21-year-old Giannis Antetokounmpo is affectionately named the "Greek Freak" for a reason. He is 6'11" (he was 6'9″ when he was drafted at the age of 18) with a 7'3″ wingspan, 12″ hands (which is beyond mind-boggling), less than 5% body fat, and the most interesting of all, his achilles tendon is 13.5″ which is twice the size of an average male. This allows him to store and omit more elastic energy and have more acceleration and explosion.
He was a mystery that garnered lots of intrigue and hype coming into the 2013 NBA Draft. This led to Giannis being drafted 15th by the Milwaukee Bucks.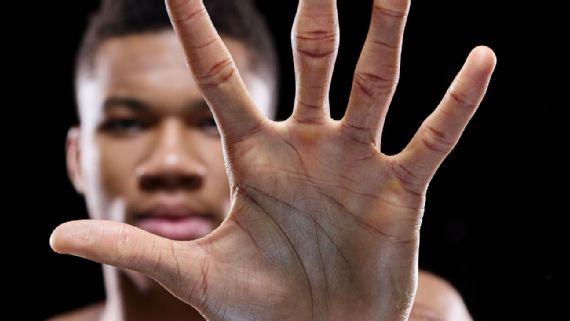 Three years later, in what seems to have been one of the worst drafts in recent memory, Antetokounmpo is without question the best player and most valuable asset from that draft by a mile.
He is starting to put the puzzle pieces together in the second half of his third season and unlock his massive potential filling up the stat sheet. He can get to the rim at will, lead a fast break, dominate the glass and be an elite defender of four different positions. He is averaging just under 17-7-4 on the season, but has been scorching the earth since the all-star break.
He is averaging 20-9-8 the past month and has averaged 22-8-8 since the beginning of March. He has also registered four triple-doubles in the past three weeks and is shooting over 50% from the field.
If the Greek Freak can develop a more consistent jump shot, (he is only shooting 22% from downtown this season) he will make himself one of the most dangerous offensive weapons in the league, with his natural quickness, acceleration, explosiveness, fluidity, court vision and ability to get to the rim as a player of his size.
If you were to talk to NBA GM's right now I doubt you would find 10 players in the entire league with more trade value than Giannis.
It will be amazing to watch the Greek Freak try to steadily improve his game and unlock all of his otherworldly potential as he could morph into an unholy 6'11" hybrid of Scottie Pippen and Kawhi Leonard.
Regardless of the Bucks disappointing season, with Antetokounmpo and Parker developing into something special, good things are brewing in Milwaukee for the first time in a while.