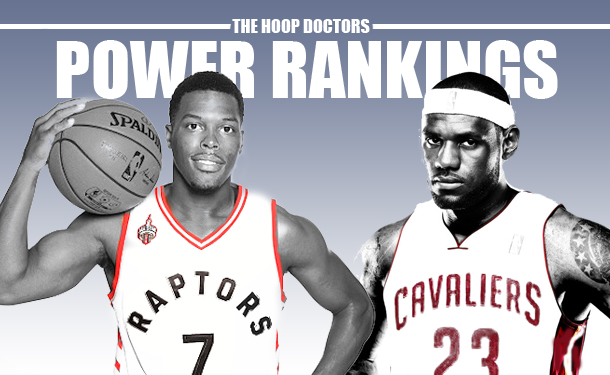 Smell that?
It's the scent of the NBA's stretch run.
Urgency is officially overtaking the Association. Teams still have more than one-quarter of their schedule left to play, but the ramifications of early-season happenings are becoming real.
The Portland Trail Blazers are rising; the Houston Rockets are falling; the Chicago Bulls are standing steady after free falling themselves; the New Orleans Pelicans are on a treadmill to nowhere; the New York Knicks have squandered what could have been an encouraging season; the Oklahoma City Thunder are coming to grips with being great, even super great, but still not great enough; and the Eastern Conference's middle class is a clusterfuck of fringe contenders all vying for the rights to a first- or, if they're lucky, second-round exit.
Now seems like a pretty good time for some power rankings, doesn't it?
***For a week by week list of all our NBA Power Rankings this season, please visit this page.
NBA Power Rankings
| | |
| --- | --- |
| 1 | |

Golden State Warriors

It's cute how some people try to get angry with the Warriors, like they haven't earned the right to have fun. News flash: They most certainly have.

Last Week (1)

| | |
| --- | --- |
| 2 | |

San Antonio Spurs

We've reached the point of the season where we need to assume each of the Spurs' key players are sitting out unless otherwise told.

Last Week (2)

| | |
| --- | --- |
| 3 | |

Cleveland Cavaliers

Remember when Tyronn Lue was going to have the Cavaliers play with a semblance of pace?

Last Week (4)

| | |
| --- | --- |
| 4 | |

Oklahoma City Thunder

The Thunder are amazing, as balanced as they've been during the Kevin Durant era, and yet you could make the case they don't stand a chance in hell of reaching the NBA Finals. Just crazy.

| | |
| --- | --- |
| 5 | |

Los Angeles Clippers

A lottery-protected first-round pick for Jeff Green? Seriously?

Last Week (6)

| | |
| --- | --- |
| 6 | |

Toronto Raptors

The Raptors' motto for the rest of this season, inspired by Masai Ujiri: Fuck first-round exits.

Last Week (5)

| | |
| --- | --- |
| 7 | |

Boston Celtics

There is a chance that, by season's end, the Celtics will be the Cavaliers' biggest "threat" in the Eastern Conference.

Last Week (7)

| | |
| --- | --- |
| 8 | |

Portland Trail Blazers

Nothing about this Blazers team makes sense. They're good but shouldn't be. They're able to space the floor even with a dearth of frontcourt shooting. It's madness. Much respect for Terry Stotts.

Last Week (8)

| | |
| --- | --- |
| 9 | |

Miami Heat

Chris Bosh is still a bystander, which is troubling. But the Heat are playing faster and winning and have regained control of the East's No. 3 seed. That's not troubling.

Last Week (18)

| | |
| --- | --- |
| 10 | |

Charlotte Hornets

Marvin Williams has arguably been the Charlotte Hornets' best player, and I'm being mostly serious.

Last Week (14)

| | |
| --- | --- |
| 11 | |

Indiana Pacers

Everything about the Pacers' devolving offense makes me cringe. Too much shot-hunting, too little ball movement, not enough Myles Turner.

Last Week (11)

| | |
| --- | --- |
| 12 | |

Atlanta Hawks

The 2015-16 Atlanta Hawks: Confusing the hell out of us all since October 27.

Last Week (10)

| | |
| --- | --- |
| 13 | |

Utah Jazz

Totally unofficial stat: The Jazz lead the league in blowing leads that shouldn't be blown.

Last Week (9)

| | |
| --- | --- |
| 14 | |

Dallas Mavericks

So who do the Mavericks offer more money to this offseason, Dwight Howard, Al Horford or Hassan Whiteside?

Last Week (13)

| | |
| --- | --- |
| 15 | |

Detroit Pistons

What a drag that the Donatas Motiejunas trade couldn't go through. It means that Motiejunas is both unhealthy and, likely, won't ever get to bust defenses up in Stan Van Gundy's system.

Last Week (8)

| | |
| --- | --- |
| 16 | |

Washington Wizards

Update: John Wall's back still hurts from carrying the rest of the Wizards.

Last Week (16)

| | |
| --- | --- |
| 17 | |

Chicago Bulls

Two impressive wins outside of the All-Star break is encouraging. That they're teetering on the brink of the lottery is not.

| | |
| --- | --- |
| 18 | |

Houston Rockets

Houston's defense is a through exercise in how to sniff out crap.

Last Week (17)

| | |
| --- | --- |
| 19 | |

Memphis Grizzlies

Marc Gasol is now officially done for the season, so I had to do this. Sorrrrrry.

Last Week (18)

| | |
| --- | --- |
| 20 | |

Milwaukee Bucks

There is life in Milwaukee! The Bucks defense has returned to former glory, aided in part by Greg Monroe's move to the bench. This feels like a long-term issue they'll have to address over the summer, but for now, whatever works is all that matters.

Last Week (21)

| | |
| --- | --- |
| 21 | |

Orlando Magic

Still trying to wrap my head around the sight of Brandon Jennings and Ersan Ilyasova in Magic jerseys.

Last Week (26)

| | |
| --- | --- |
| 22 | |

Sacramento Kings

Vlade Divac didn't do anything insane at the trade deadline, which makes me sad. The Kings in general, save for random shows of competence, are just sad.

Last Week (22)

| | |
| --- | --- |
| 23 | |

New Orleans Pelicans

Anthony Davis' supporting cast is laughable. General manager Dell Demps has some work to do this summer, assuming he even still has a job.

Last Week (25)

| | |
| --- | --- |
| 24 | |

Denver Nuggets

MOAR JOKIC.

Last Week (21)

| | |
| --- | --- |
| 25 | |

Minnesota Timberwolves

Watching Karl-Anthony Towns is surreal. Dude is already an All-Star in my book. There won't be any aspect of the game he can't dominate once he develops a better passing eye.

Last Week (23)

| | |
| --- | --- |
| 26 | |

New York Knicks

Kurt Rambis is most likely about to make some changes to the Knicks' starting lineup. Jose Calderon will probably be the first to go.

His replacement?

Langston Galloway is the logical answer.

Which means it'll be Sasha Vujacic.

Last Week (24)

| | |
| --- | --- |
| 27 | |

Brooklyn Nets

Does anyone else feel bad that Brook Lopez is stuck in Brooklyn?

Last Week (28)

| | |
| --- | --- |
| 28 | |

Los Angeles Lakers

D'Angelo Russell is starting!

D'Angelo Russell is starting!

D'Angelo Russell is starting!

D'Angelo Russell is starting!

D'Angelo Russell is starting!

Last Week (29)

| | |
| --- | --- |
| 29 | |

Philadelphia 76ers

Please, for the love of sensibility, break up your frontcourt logjam this summer, Sixers.

Last Week (27)

| | |
| --- | --- |
| 30 | |

Phoenix Suns

Kris Humphries in a Suns jersey is one of the more sublime sights you'll see this year.

Last Week (30)