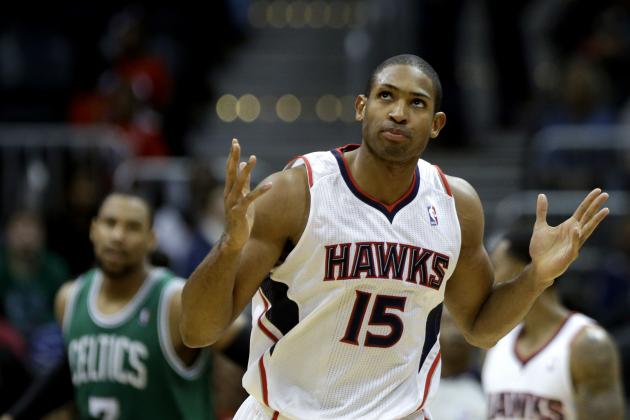 If the Atlanta Hawks decide to hold a fire sale leading into the NBA's Feb. 18 trade deadline, Boston Celtics president Danny Ainge will be first in line for free-agent-to-be Al Horford.
Which is perfect.
Tinkering with the Celtics would be a dangerous game at this point. They have the East's third-best record and rank inside the top 10 of both offensive and defensive efficiency. But Ainge has hoarded assets for a reason, for that opportunity to land a superstar—the right superstar. And Horford is the right superstar, hence Ainge's purported interested.
As the Vertical's Chris Mannix said on CSN New England (transcription via CBS Boston):
"I think Boston, Al Horford is a legitimate possibility for the Celtics," Mannix said Tuesday on CSNNE. "I think that is one of the guys across the league that Danny Ainge is the most excited about. He is a four man that would fit right into what Boston is trying to do. It would cost a lot of money to re-sign him in the offseason, but I think Boston is willing to play it, because they haven't paid a lot of money for players in recent years."
With Horford slated for free agency, the Hawks aren't getting any of the Brooklyn Nets' first-round picks from the Celtics. But Boston can cobble together a package built around its own first, the Dallas Mavericks' first, Avery Bradley, David Lee, Jared Sullinger and R.J. Hunter in exchange for Kyle Korver, Al Horford and Thabo Sefolosha. That would work. And while Bradley and Sullinger are a big part of what the Celtics do, Boston has enough perimeter depth to offset Bradley's contributions, while Horford transcends Sully on both ends of the floor.
In terms of shaking up a top-three conference contender, the Celtics cannot go wrong with Horford. He passes, he shoots, he scores off the dribble, he defends. He does everything. If they're confident in their ability to re-sign him, and if the Hawks are serious about rebuilding, this is a trade match made in heaven.