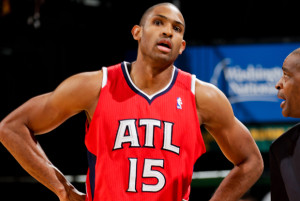 Al Horford, the three time All-Star power forward out of the Dominican Republic, might be looking to move out of Atlanta. He's set to make $12 million in the final year of his contract, before heading to unrestricted free agency.
The nine-year veteran has been a rock since the 2010-11 season, and this year he is having a solid outing, averaging 15.2 points, seven rebounds and three assists. He's even added a bit of the three point shot to his repertoire, hitting 33.3% from long distance off 3 attempts a game.
However, while Al Horford's continued to flourish, the Hawks haven't. The Hawks have regressed from the record-setting form of a season ago. That's sure to play on Horford's mind as he looks to add a championship ring in his twilight years.
When quizzed on the topic by Yahoo Sports, Horford kept his options open, not giving anything away:
"Atlanta has the potential for a guy like myself to maximise (the business) part of it. But obviously there are other cities, bigger cities that are more appealing probably (business and marketing wise)".
From the front office perspective, they are on the edge of a slippery slope. Jeff Teague hasn't had the All-Star impact of last season, and they've lost the 3-and-D skills of DeMarre Carroll. Despite an inconsistent but very promising bright spark in Dennis Schroder, the Hawks have been merely above-average, quite the negative for a team that had 4 All-Stars a season ago.
The free agency loss of Al Horford would send Atlanta right into the depths of the NBA's maligned no-man's land; not good enough to compete in the playoffs, and not bad enough to wrangle a decent lottery pick. The hope is that the Hawks can get something for Horford in the trade market, and given his consistency over his entire career, he definitely has trade value for the Hawks, should they choose to follow that route.
Reading between the lines of the statements that Horford has made, he may want to move to a big market team that'll put him in a position to make a run at a chip. Whether the Hawks can make a trade like that is yet to be seen, but it's not out of the question – Horford's consistency is absolutely an in-demand asset. His options in free agency, however, are limited. New York is seemingly set long-term with the explosion of 7-3 phenom Kristaps Porzingis, Miami have All-Star Chris Bosh and LA recently drafted the agile rookie Julius Randle. Boston is an intriguing option, with a flexible salary situation there as well. However, given the Celtics' guard-heavy rotation, and the Hawks' stacked backcourt, it's perhaps a stretch to imagine that a trade can be made unless draft picks are involved, and those are valuable commodities given the depth of upcoming draft classes.
Al Horford is absolutely an All-Star caliber player, and one deserving of a championship to his name. Whether the Hawks can find it for him in a larger market isn't clear yet, but one thing is; Horford may not be playing in Atlanta come next season.